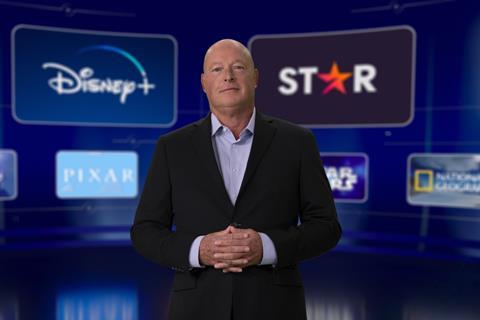 Walt Disney Company CEO Bob Chapek said the number of Disney+ subscribers has reached 86.8m in the first 13 months, and also announced the launch of new brand Star.
Speaking at the start of a four-hour presentation on Disney Investor Day on Thursday (December 10), after Disney's stock price closed on December 9 at a record high of $154.43, hierarchy also revealed that it will launch Star, a general entertainment content brand based on the launch of Disney+ Hotstar in India and Indonesia.
Star will be bundled with Disney+ in select international markets, and launch as a separate streaming service in Latin America as Star+.
The Star entities will contain content from the Disney-owned brands including Disney Television Studios, FX, 20th Century Studios, 20th Television.
Star will launch in Europe and several other international markets on February 23, 2021 as part of Disney+, with a new roster of general entertainment series, films, and documentaries.
In Europe, the service will be priced at €8.99 per month or €89.99 per year, with similar pricing in other Star launch markets such as Australia, New Zealand, and Canada.
Disney+ will continue its global rollout, incorporating Star, in new markets starting with Singapore on February 23, 2021, followed by Eastern Europe, Hong Kong, Japan, and South Korea later in 2021.
Disney will debut Star+ in Latin America in June 2021 as a standalone streaming service comprising Star content, local original productions, and live sports from ESPN.
The service will be priced at approximately 7.50 per month or the local equivalent, or as part of a priced bundle with Disney+ for approximately $9 per month or the local equivalent.
On March 26, 2021, the monthly cost of Disney+ will rise by $1 to $7.99 and the annual cost by $10 to $79.99, while the Disney bundle with Disney+, Hulu, and ESPN+ will be priced at $13.99 per month.
Hulu customers will be able to subscribe to ESPN+ from within the Hulu platform in early 2021.
Disney announced that as of December 2 its entire portfolio of direct-to-consumer services including the 86.8m Disney+ members has exceeded 137m global paid subscriptions, including 11.5m ESPN+ subscribers and 38.8m Hulu subscribers.
Disney expects its streaming services to hit 300m-350m total subscriptions by fiscal 2024, and Disney+ subscribers to reach 230m-260m by the same time.