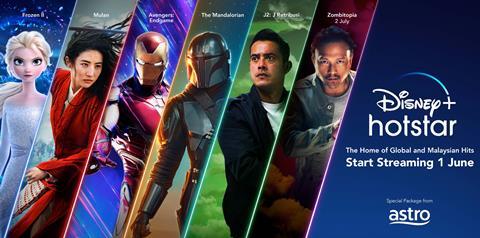 The Walt Disney Company is rolling out its Disney+ Hotstar streaming service in Malaysia on June 1, with a wide range of local and other Asian content to complement its Disney, Pixar, Marvel, Star Wars and National Geographic brands.
As part of the local content offering, the service has entered into a series of multi-year agreements with leading Malaysian studios, including Skop Productions, Revolution Media Films, Primeworks Studios, WAU Animation, Act 2 Pictures, Les' Copaque Production and Red Films, among others.
The agreements mean that some Malaysian films will skip theatres and premiere on Disney+ Hotstar. These include action sequel J2: J Retribusi, starring Zul Ariffin, Ashraf Sinclair and Amelia Henderson; Zombitopia, starring Shaheizy Sam, Bront Palarae and Sharifah Amani; and Ada Hantu, starring Hairul Azreen. Other titles, including Ejen Ali The Movie 2, will stream exclusively on Disney+ Hotstar following a theatrical debut.
Malaysian TV dramas, such as TV3's Single Terlalu Lama and Kekasih Hati Mr Bodyguard, will be streamed on the same day as their linear broadcast.
The service will also carry Malaysian kids content; Chinese-language films and series, including The Silent Forest, Ip Man 4: The Finale and Ruyi's Royal Love In The Palace; and Hindi and Tamil-language content acquired by Hotstar including Dil Bechara, Lootcase, Khuda Hafiz and Vishwaroopam 1 and 2.
Disney launched Disney+ Hotstar in India in April 2020, after acquiring leading Indian streaming service Hotstar through its acquisition of 21st Century Fox. The Disney+ Hotstar brand was also rolled out in Indonesia in August 2020, but when the studio launched a streaming service in Singapore in February this year, it opted to only use the Disney+ brand.
The service is being offered in Malaysia for $13.40 (RM54.90) for three months, or through special packages with Malaysian pay-TV operator Astro.