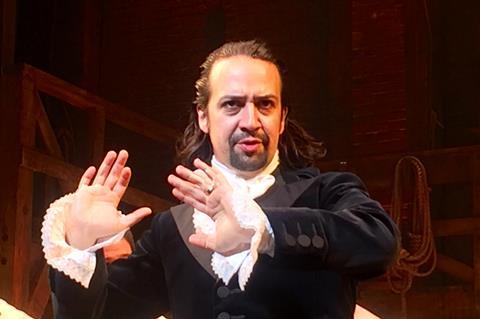 Disney has reportedly paid $75m for a live filmed version of Lin-Manuel Miranda's Broadway smash Hamilton in an eye-popping single film acquisition that ultimately appears designed to keep its streaming subscribers happy.
The studio will distribute the film on October 15, 2021, offering theatrical audiences the chance to see a live recording of the Tony Award-winning show with the original cast without having to pay the high price of a theatre ticket.
Sometime after that the film will debut on Disney+, but not before a window in which Hamilton will continue to tour as a modern sensation of the stage.
Hamilton stage director Tommy Kail shot the film in 2016. It comprises three live stage performances featuring Miranda and the original cast, as well as set-up shots.
The Pulitzer Prize-winning show uses hip-hop to chronicle the life of Founding Father Alexander Hamilton.
After Miranda announced the news on Twitter on Monday (February 3), Disney confirmed the deal and issued a statement in which chief Bob Iger called Hamilton an "unforgettable theater experience and a true cultural phenomenon".