Bob Iger, Mark Hamill and Billy Dee Williams have paid their respects to the Princess Leia actress.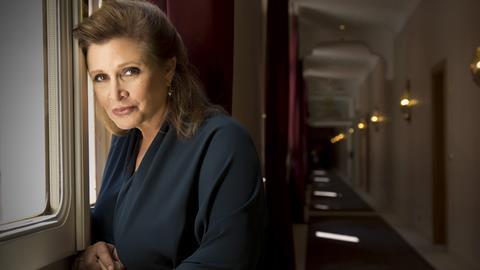 The Disney hierarchy and the cast of Star Wars have reacted to the devastating news that Carrie Fisher has passed away, aged 60.
Bob Iger, Chairman and CEO at Disney, said in a statement:

"Carrie Fisher was one-of-a-kind, a true character who shared her talent and her truth with us all with her trademark wit and irreverence. Millions fell in love with her as the indomitable Princess Leia; she will always have a special place in the hearts of Star Wars fans as well as all of us who were lucky enough to know her personally. She will be sorely missed, and we join millions of fans and friends around the world who mourn her loss today."
Mark Hamill, who played Luke Skywalker opposite Fisher in the Star Wars films, simply tweeted: "no words #Devastated".
C-3PO actor Anthony Daniels said: "I thought I had got what I wanted under the tree. I didn't. In spite of so many thoughts and prayers from so many. I am very, very sad."
Gwendoline Christie, who played Captain Phasma in Episode VII, tweeted: "We've lost our Princess".
Chewbacca actor Peter Mayhew said: "There are no words for this loss. Carrie was the brightest light in every room she entered. I will miss her dearly."
Star Wars: The Force Awakens actor Andy Serkis said on Twitter: "Dearest Carrie, so incredibly sad to say farewell so soon to such a beautifully honest and unique human being- see you in the multiverse."
Billy Dee Williams, who starred alongside Fisher in The Empire Strikes Back and Return Of The Jedi, said: "I'm deeply saddened at the news of Carrie's passing. She was a dear friend, whom I greatly respected and admired. The force is dark today!"
Fisher suffered a heart attack on a flight from London to Los Angeles on December 23. She died in hospital.
A statement released on behalf of her daughter Billie Lourd said: "It is with a very deep sadness that Billie Lourd confirms that her beloved mother Carrie Fisher passed away at 8:55 this morning."
"She was loved by the world and she will be missed profoundly. Our entire family thanks you for your thoughts and prayers."
The star wrapped filming last summer on Star Wars: Episode VIII, due out on December 17, 2017. Disney and Lucasfilm chiefs will now work with screenwriters on how to handle Princess Leia in the storyline of Episode XI, set to open in May 2019.
Fisher was a cast regular on Amazon Studios' TV show Catastrophe, as well as Fox's Family Guy. She was also due to star in the independent fantasy Wonderwell, which had not begun production.