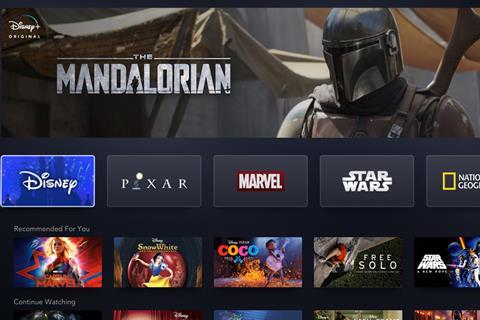 Disney's eagerly anticipated streaming service Disney+ will launch in the US on November 12 with a basic monthly subscription fee of $6.99, followed by debuts in Western Europe and Asia Pacific towards the end of 2019 and the first few months of 2020.
The entertainment titan expects the family-friendly, ad-free service to secure between 60m and 90m subscribers – and go into profit – by the end of the company's fiscal 2024, with two-thirds of members coming from outside the US.
After the first wave of international launches, Disney+ will start arriving in territories in Eastern Europe and Latin America in the last quarter of 2020.
Those were among details of the service revealed on Thursday (April 11) during a marathon three-and-a-half hour presentation to investors at Disney headquarters in Burbank.
Though it also dealt with other direct-to-consumer (DTC) services from the newly combined Disney and Fox operations – among them Hulu and India's Hotstar – the presentation focused on Disney+, with executives from multiple Disney production labels touting their divisions' contributions to the service's programming line-up.
"Treasure trove of long-lasting, valuable content"
Apparently referring to rivals in the upcoming streaming war such as WarnerMedia and Apple, Disney chairman and CEO Bob Iger said Disney+ will be built on "a treasure trove of long-lasting, valuable content… that no other content or technology company can rival." Disney's push into the DTC streaming business, he added, starts "from a position of strength, confidence and unbridled optimism."
Most of the original series previewed with brief clips during the presentation had been previously announced, though Marvel Studios president Kevin Feige confirmed two more live-action series featuring characters from the Marvel Cinematic Universe: The Falcon And The Winter Soldier, with Anthony Mackie and Sebastian Stan, and WandaVision, with Elizabeth Olsen and Paul Bettany.
Lucasfilm president Kathleen Kennedy confirmed that the two original Star Wars trilogies, as well as Episode VII: The Force Awakens and Rogue One: A Star Wars Story, will all be among the films available on Disney+ from the day of the service's launch. Also on the initial menu will be all 13 of Disney's animated classics and 18 of Pixar's 21 animated features.
All 30 seasons of The Simpsons, first two Star Wars trilogies, two new Marvel series
And Disney said that 30 seasons of The Simpsons – inherited by the studio as part of it's just-completed acquisition of most of Fox's film and TV assets – would also be part of the service.
Original content to be offered by Disney+ from day one includes Star Wars spin-off series The Mandalorian and High School Musical: The Musical: The Series; Toy Story spin-off animated shorts series Forky Asks A Question, from Pixar; unscripted series The World According To Jeff Goldblum from former Fox division National Geographic; and the new live-action film version of Lady & The Tramp from Walt Disney Studios Motion Pictures.
Recent theatrical features to be available on the launch date include Captain Marvel, Free Solo, and Zootopia.
Disney+ senior vice-president of content Agnes Chu said that by the end of the first year the service would house more than 7,500 episodes of television and 500 films. "By year five we expect our annual production slate to include more than 50 original series," she added.
Investment in original content to hit $1bn for fiscal year 2020
Disney's investment in original content will be around $1bn for its fiscal year 2020, said CFO Christine McCarthy, rising to "the mid-$2bn range" in fiscal 2024.
Ricky Strauss, president of content and marketing for Disney+, said the service will be promoted at venues such as this week's Star Wars Celebration fan event and the Comic-Con convention in San Diego.
"One of the key advantages we have in marketing Disney+ is access to an incredible number of touch points across the Walt Disney Company," Strauss said. "And we plan to leverage this unparalleled reach."