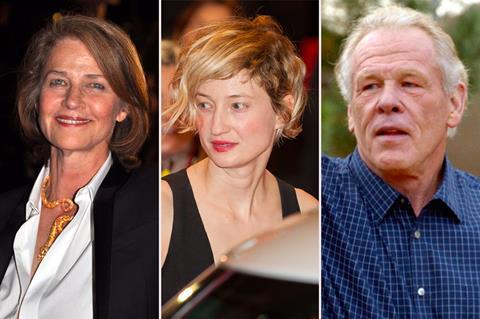 Doc & Films International has boarded sales on US director Jonathan Nossiter's end-of-the-world, 2085-set drama Last Words, starring Nick Nolte, Charlotte Rampling, Alba Rohrwacher, Stellan Skarsgard and Valeria Golino.
The long-gestating project, which was first unveiled at the Les Arcs Coproduction Village in 2016, unfolds against the backdrop of a near-future world devastated by ecological disasters and conflicts, where there have been no human births in over a decade.
A handful of survivors respond to a mysterious call to meet up in Athens. The feature's narrator Jo, a 17-year-old boy of African origin, brings with him a treasure trove of film reels, all bearing the inscription "Cineteca di Bologna".
The group revisits the final chapters of mankind's existence on earth, while Jo becomes its "last moviemaker" as he captures these last members of the human race as it approaches extinction.
"These fragments of film bring back the past," said Doc & Film International CEO Daniela Elstner. "I loved the idea of cinema bringing back something that everyone has long forgotten."
Nolte co-stars as an elderly man who becomes close to Jo while Rampling will play a mysterious and sensuous Baltic woman called Baltk. The role of Jo is currently being cast.
The feature marks Nossiter's third collaboration with Rampling, who co-starred in his 2010 comedy drama Rio Sex Drama and the 2000 relationship tale Signs And Wonders, which also featured Skarsgard in the cast.
Nossiter co-wrote the screenplay with Argentine-French writer Santiago Amigorena, loosely adapting the latter's 2015 novel Mes Derniers Mots. The pair previously collaborated on the script for Rio Sex Drama.
Paris-based Doc & Films International will launch sales at TIFF on the production, which is due to shoot this autumn in Italy, France and Morocco for a 2019 delivery.
Donatello Palermo at Rome-based Stemal Entertainment is producing alongside Serge Lalou, under his Paris-based Films d'Ici banner which celebrates its 40th anniversary this year; Paprika Films are on board as co-producers.
Doc & Films is also in Toronto with festival titles Monrovia, Indiana, Frederick Wiseman's documentary exploring rural middle America, and Ali Vatansever's Saf, which unfolds in a poor neighbourhood of Istanbul being swept away by rampant urban development.
The company's slate also includes Francesco Zippel's Friedkin Uncut, which premiered in Venice.