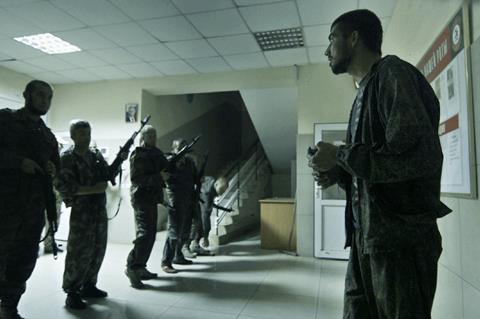 Speaking to Screendaily, Cintia Gil, co-director of DocLisboa, has revealed the full extent of the pressure that the festival has come under in recent days to withdraw films for "political reasons."
On the same day last week, the festival was contacted by both the Ukrainian and the Turkish embassies, with the former asking that it pull Russian director Aliona Polunina's Their Own Republic.
The film, a portrait of a pro-Russian battalion in the Donetsk People's Republic – is a world premiere. It is unclear whether Ukrainian embassy officials have seen it yet.
The Embassy told DocLisboa that the international community condemned the Russian invasion of Ukraine and that showing such a film would be equivalent to "supporting a terrorist group."
The festival issued a press release defending the programming choice and contacted the Portuguese Ministry Of Foreign Affairs, which affirmed its right to show the film and "to programme whatever you think is fit."
"We would never remove a film because of political pressure from anyone," Gil stated. She also pointed out that many Ukrainians live in Portugal. "Not all of them are pro-Ukraine. We have people from Crimea. People are very divided - pro-Russia, anti-Russia."
Turkey
The Issue with the Turkish embassy has to do with the festival sidebar, Sailing The Euphrates, which includes newsreels from the early 20th Century dealing with the Armenian genocide. The festival is also showing Yol.
"We wrote some texts about these films. In the first case, we used the phrase, the "Armenian genocide" and in the second, we used the expression, "annihilation of the Kurdish people.'"
A spokesperson for the Turkish embassy objected to these expressions and said they did "not correspond to reality."
The festival refused to budge or to negotiate with the Turkish embassy.
"I said, no, we cannot negotiate with a dictatorship - with a country that has political prisoners and artists and journalists [in prison.] This is not the way that we do things. The conversation stopped there."
By coincidence, DocLisboa received the complaints from the Ukrainian and Turkish embassies on the very same day – October 11. Gil sees their intervention as a worrying trend. The fact that the festival was contacted at all suggests the embassies felt that it might bow to pressure.
"That was what frightened me. This, for me, is a sign they think they can do this," Gil reflected. "I had the feeling that they thought somehow they would be allowed to interfere in the programme."
Gil thanked other festivals which have sent messages of informal support, among them CPH:DOX.
"In this region, it is not normal for this to happen. People don't know how to deal with it very well. This is not something that happens constantly in Portugal," Gil said of the interference from the two embassies and the issue of censoring the festival's programming choices.
The 16th edition of DocLisboa runs October 18-28.