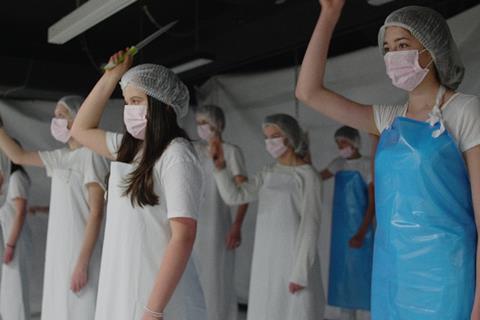 Two documentaries from Germany – Jonas Heldt's Automotive and Yulia Lokshina's Rules Of The Assembly Line, At High Speed – won this year's Healthy Workplaces Film Award (HWFA) at this year's Doclisboa.
The Portugal-based documentary festival is taking place across six separate programmes or 'moments' over six months, with the first running October 22-November 1.
The prizes were announced Wednesday afternoon (Oct 28) before a discussion on "Thinking Labour Practices Through Film" on Doclisboa's Nebulae networking platform.
Heldt's film – which premiered in the Perspektive Deutsches Kino section at this year's Berlinale – focuses on the value of work in the age of the digital revolution and focusing on two women working for the Audi car company in Ingolstadt - 20-year-old Sedanur who spends her nights sorting car parts on the assembly line for the robots, and 33-year old Eva, a headhunter looking for experts to automate some of their logistics.
Lokshina's graduation film from Munich's University for Television & Film (HFF) follows the workers of the largest slaughterhouse in the country fighting for survival, while German activists fight for their rights against the local authorities.
The presentation of the HWFA award during this year's Doclisboa marks the beginning of a new partnership between the festival and the European Agency for Safety and Health at Work (EU-OSHA).
In addition to the €5,000 prize money, EU-OSHA also funds the subtitling of the winning films in multiple European languages and distribution among EU-OSHA's national network across EU member states and other European countries.
The two winners were selected by an international jury from a line-up of ten films featuring contemporary portraits of labour, which screened at Lisbon's São Jorge cinema this week in the new 'Body of Work' sidebar.