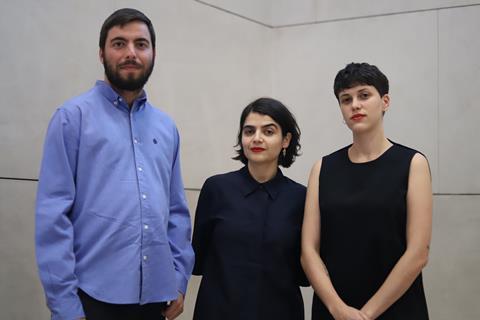 Portugal's documentary festival Doclisboa has been reimagined in the wake of the Covid-19 outbreak and will see its next edition staged across six months.
The Lisbon festival was due to take place from October 22 to November 1 but will now be spread over six "moments" from October 2020 to March 2021. Each will focus on a different theme reflected in the selected films and associated discussions.
The first will retain the original dates (October 22-November 1) and then run across one week per month in the festival's usual venues. This year's selection has yet to be announced as submissions for films remain open until June 30.
This 18th edition will be the first under new co-directors Joana Gusmão, Joana Sousa and Miguel Ribeiro, following the departure of Cintia Gil for the UK's Sheffield Doc/Fest and Davide Oberto.
In a joint statement, the new co-directors said: "We are living through complex and uncertain times that pose a series of challenges to those who make, who show and who watch cinema. We have been working so that the 18th edition of Doclisboa responds to these challenges with new ways of being together and taking care of each other.
"Doclisboa is a place of meeting around cinema, and it is in the theatres that we want to continue to collectively investigate the world. We propose to build a festival that responds to the times but that preserves our way of being: that of sharing, of questioning, of seeing and thinking with the other."
With continued uncertainty over the attendance of industry guests due to travel restrictions and safety concerns, the festival is exploring the use of digital platforms to serve international programmers, distributors and exhibitors.
"Act of resistance"
Gusmão, Sousa and Ribeiro also criticised the reaction to the pandemic by the Portuguese authorities and said this year's edition would be "an act of resistance".
"The current situation makes the difficulties and challenges of making and showing cinema in Portugal even more evident," they added. "In addition to all present restrictions, we are also faced with insufficient cultural and labour policies, which lack due respect for the professionals of the sector.
"Our solidarity is total, and we reiterate that each Portuguese film shown at this year's festival will intrinsically be, through their very fact of having been made, an act of resistance.
"Resistance is also the act of going to the theatre… By extending in time the presentation of our programming in Lisbon's various venues, we hope to contribute to the reconstruction of a gesture that brings those who watch and those who make films together."