OCTOBER 31 UPDATE: Marvel Studios' latest opens top in all-but two of its 33 opening territories.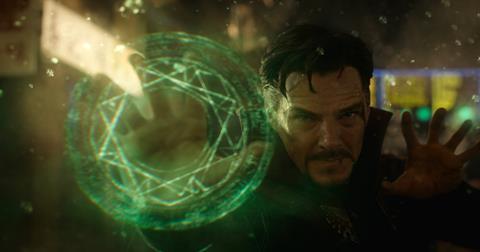 WALT DISNEY STUDIOS MOTION PICTURES INTERNATIONAL
Doctor Strange dominated the international marketplace this weekend with an estimated $86m bow from its 33 territories.
Marvel Studios' latest adaptation opened 49% ahead of Ant-Man, 37% ahead of Guardians Of The Galaxy and 23% in front of Captain America: The Winter Soldier, based on same release territories and at today's exchange rates. It topped the chart in every territory apart from Lithuania and Finland.
South Korea led the way with a huge $18.1m debut which marked the biggest opening weekend for a Marvel original outing, followed by the UK on $11.1m, France with $5.7m, Australia at $4.9m and Germany with $4.8m.
From 213 IMAX screens in 32 territories, Doctor Strange produced record results of $7.8m to become IMAX's biggest-ever October opening internationally. It enjoyed the biggest-ever IMAX opening in South Korea, and will become IMAX's widest-ever release worldwide next weekend when it plays on more than 1,000 screens.
Doctor Strange opens in 23 more territories next weekend, including the likes of Russia, Brazil, China, Norway, India, Uruguay and Venezuela.
Finding Dory swum to an extra $2.2m from its 13 territories for $535.5m overseas and a global haul of $1.02bn.
FOX INTERNATIONAL
UPDATE: The number one film in 13 markets, Trolls sung to a $30m second weekend overseas from its 40 markets for $61.6m so far.
DreamWorks Animation's latest offering opened with a soft $5m in China, but debuted top in Russia ($3.6m) and Brazil ($1.8m). Holdover-wise, it boosted 13% in France with $4.6m for $11.4m and 8% in the UK with $4.2m for $17.8m.
Along with its North American release, Trolls opens in more than 30 markets next weekend.
FIP and Fox Star's Ae Dil Hai Mushkil enjoyed an $8.2m international bow from its two markets, the majority coming from its excellent chart-topping $7.5m debut in India.
Miss Peregrine's Home For Peculiar Children added $7.4m from its 64 markets to lift its overseas running total to $163.4m.
France led the way as it fell only 27% on its way to a $2.4m fourth weekend for $16.7m, followed by the UK ($700k for $14.7m) and Germany ($649k for $8.1m). It's still to open in China (December 2), Italy (December 15) and Japan (February 2).
With 18 markets still to release, Keeping Up With The Joneses took $1.3m from its 25 markets for $5m.
SONY PICTURES RELEASING INTERNATIONAL
Propelled by a chart-topping $13.3m in China, Inferno uncovered $29.1m from its 61 markets for $132.7m so far, with France still to release on November 9.
The latest Dan Brown adaptation also landed in Japan with $3.3m from 593 screens, while it fell 42% with a $1.7m third weekend in Germany for $10.4m and 32% in Brazil for $1.3m and a local tally of $8.3m.
El Jeremías, a co-production from Sony Pictures International Productions, opened in Mexico with an estimated $600k from its 495 screens.
PARAMOUNT PICTURES INTERNATIONAL
Jack Reacher: Never Go Back shot to an $11.6m second overseas weekend from its 46 markets for $54.2m to date.
The action sequel posted $1.6m second weekends in the UK and France for local tallies of $6.9m and $5.2m, respectively, and added $892k in Australia for $3.5m. Its next major openings come in Germany (November 10), Japan and Spain (November 11).
CHINESE TITLES
Comedy Mr. Donkey recorded an estimated $9m Chinese debut, according to ComScore.
From seven territories, Dante Lam's hit Operation Mekong took $4.2m for $166.6m.
UNIVERSAL PICTURES INTERNATIONAL
UPDATE: Over the Halloween weekend, Ouija: Origin Of Evil scared up a further $8.7m from its 42 territories for an early $19.5m.
Blumhouse Productions, Platinum Dunes and Hasbro's horror prequel opened in 20 new territories, including Spain ($982k from 252 sites) and Italy ($703k from 180), and added $933k in Mexico for a ten-day total of $4m.
It opens in France, French-Switzerland, Indonesia, Malaysia, Singapore and Thailand next weekend.
Bridget Jones's Baby delivered another $7.3m from its 51 territories for $168.2m overseas and $192.3m worldwide.
Universal Pictures, Miramax and StudioCanal's presentation of Working Title's threequel took $2m in Germany for a local tally of $6.3m and held well in the UK with an $807k seventh weekend for $58.8m. It opens in Argentina next weekend.
Focus Features' A Monster Calls fell to second in Spain as it took $1.9m for a 24-day tally of $22m, while Illumination Entertainment's The Secret Life Of Pets hopped to $2m from its 38 territories for $501.6m.
Laika's Kubo And The Two Strings and American Honey stand at $20m and $842k, respectively.
WARNER BROS PICTURES INTERNATIONAL
UPDATE: Led by a $1.2m Russian debut to chart fourth, The Accountant accumulated $8.7m from its 46 markets for an early $21.3m.
Other openings included a chart-topping $713k in the UAE from 66 screens and a $606k bow in Italy from 304 screens, as the Ben Affleck crime drama brought in $902k in Brazil for $2.3m after two weeks.
It opens in France, Australia, Mexico and the UK next weekend.
Storks flew to an additional $4.9m from its 62 markets for $92.8m to date, boosted by only a 3% fall in France for $1.1m and a local haul of $4.1m.
The second feature from the Warner Animation Group fell only 7% in the UK with a $764k third weekend for $6.5m to date and opened in Germany with $513k from 470 screens.
In Japan, Death Note: Light Up The New World debuted top ahead of three local efforts and Inferno with a $4.4m opening from 378 screens, 12% ahead of the original Death Note.
The film is a Death Note Film Partners Production, led by Nippon Television.
MISTER SMITH ENTERTAINMENT
DreamWorks Pictures' The Girl On The Train journeyed to an estimated $6.2m from its 35 Mister Smith territories for $52.9m to date.
In its Universal territory of Brazil, the adaptation arrived with $918k from its 258 sites for a debut 39% bigger than Gone Girl. Overall, the film has taken $56.5m overseas and $122.3m worldwide.
SHOWBOX
Falling from top spot in South Korea due to Doctor Strange's huge opening, Luck-Key added an estimated $6m from its four territories for $37.7m to date, according to ComScore.
FRANCE
Gaumont's Brice 3 posted an estimated $3.2m second weekend in France for $13.1m to date, according to ComScore.
Alexandre Castagnetti's comedy Tamara posted a $2.3m debut for UGC Distribution.
LIONSGATE
Deepwater Horizon crossed the $100m mark worldwide this weekend, adding $799k overseas from 70 markets for $42.2m internationally and a $100.6m global haul. It opens in Norway next weekend.