Disney's latest Marvel offering posts fifth-biggest opening for the brand in the UK with six-day bow of $11.24m (£9.23m).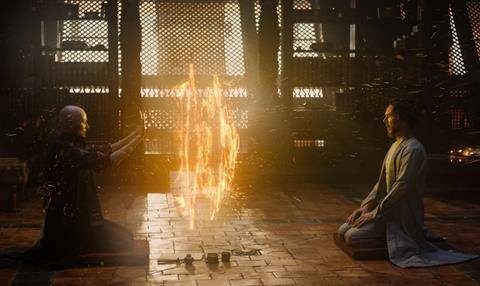 UK TOP FIVE
| Ranking | Film/Distributor | Weekend gross | Running total |
| --- | --- | --- | --- |
| 1 | Doctor Strange (Disney) | $11.24m (£9.23m) | $11.24m (£9.23m) |
| 2 | Trolls (Fox) | $3.96m (£3.25m) | $17m (£14m) |
| 3 | Jack Reacher: Never Go Back (Paramount) | $1.51m (£1.24m) | $6.77m (£5.56m) |
| 4 | The Girl On The Train (eOne) | $1.48m (£1.22m) | $24.85m (£20.43m) |
| 5 | Bridget Jones's Baby (Universal) | $800,000 (£657,456) | $56.14m (£46.16m) |
(Note - Dollar conversions are based on today's rates)
DISNEY
It might be Halloween, but Doctor Strange proved a treat for UK audiences as it dethroned Trolls at the top of the box office.
Disney's latest Marvel offering conjured up an excellent $11.24m (£9.23m) from its 600 sites, including $4.62m (£3.8m) from Tues-Thurs. It's worth noting that its Fri-Sun haul of $6.62m (£5.43m) would have also seen it land at number one.
In terms of Marvel outings in the UK, it ranks as the fifth biggest overall debut ahead of Thor: The Dark World's $10.56m (£8.67m) from 510 sites. It's also the biggest-ever opening for an original Marvel offering (not a sequel).
Based solely on Fri-Sun takings, Doctor Strange ranks as seventh biggest weekend take, but remains the biggest gross for an original offering, ahead of Guardians Of The Galaxy's $6.04m (£4.96m).
Also for Disney, Finding Dory and Pete's Dragon stand at $51.9m (£42.6m) and $6.13m (£5.03m), respectively, while Queen Of Katwe added $45,000 (£36,649) for $240,000 (£197,206) after ten days in play.
FOX
Trolls boosted 8% (excluding previews) as it sung to a non-final $3.96m (£3.25m) second weekend as it dropped to second.
Fox's animation enjoyed a bumper half term as it added more than $6.46m (£5.3m) across Mon-Thurs, leading the market on every day but Tuesday. It is now up to an excellent $17m (£14m) and should continue to be the leading family choice.
Also for Fox, Bollywood title Ae Dil Hai Mushkil posted a non-final UK bow of $751,000 (£617,400) from its 132 sites, marking a third-highest site average of the weekend at $5,689 (£4,677).
Miss Peregrine's Home For Peculiar Children and Keeping Up With The Joneses stand at $14.04m (£11.54m) and $670,000 (£550,753), respectively.
PARAMOUNT
Jack Reacher: Never Go Back fell 48% (excluding previews) on its way to a non-final $1.51m (£1.24m) second weekend.
Paramount's action sequel has now shot to $6.77m (£5.56m) in the UK and is tracking behind Jack Reacher, which stood at $8.72m (£7.16m) at the same stage, albeit with one extra day of release.
EONE
The Girl On The Train fell only 39% with a $1.48m (£1.22m) fourth weekend as it crossed the £20m mark at the UK box office.
eOne's adaptation is now up to a terrific $24.85m (£20.43m) and should overtake Gone Girl's $27.25m (£22.4m) haul by the end of its run.
Also for eOne, I, Daniel Blake followed up its record-breaking opening with a $577,000 (£474,188) second weekend.
That's a boost of 17% (excluding previews) likely thanks to an expansion to 214 sites, and Ken Loach's critically acclaimed drama has already grossed $1.61m (£1.33m) in the UK.
The BFG and Supersonic stand at $37.02m (£30.43m) and $888,000 (£730,404), respectively.
UNIVERSAL
Bridget Jones's Baby will become the biggest film of 2016 by the end of today (October 31).
Universal's threequel fell 41% with an $800,000 (£657,456) seventh weekend for a tremendous $56.14m (£46.16m) to date, narrowly behind The Jungle Book's $56.19m (£46.19m).
Also for Universal, Ouija: Origin Of Evil dropped a respectable 32% on its way to a $642,000 (£528,005) second weekend for $2.33m (£1.91m), and could have a prosperous Halloween as the sole mainstream horror release.
American Honey has grossed $467,000 (£383,732) after three weeks in play.
SONY
Falling 50% in its third weekend, Sony's Inferno uncovered a further $780,000 (£641,000) for $8.6m (£7.2m) to date.
WARNER BROS
Storks fell a slim 7% on its way to a $754,000 (£618,900) third weekend.
Warner Bros' animation added $1.44m (£1.19m) over the Mon-Thurs of half term and is now up to $6.37m (£5.23m) in the UK.
DOGWOOF
Including previews, Dogwoof's Lo And Behold: Reveries Of The Connected World posted a strong UK bow of $86,000 (£70,453) from its 19 sites, marking a $4,515 (£3,708) site average.
It's an opening on par with Werner Herzog's previous documentary release in the UK, Into The Abyss' $87,000 (£71,549) from 28, also including previews.
STUDIOCANAL
From its 34 sites through Studiocanal, South Korean box office smash Train To Busan travelled to a decent $47,000 (£38,349) UK opening, including previews.
ALTITUDE
My Scientology Movie has hit the £1m mark at the UK box office.
Altitude's documentary added $39,000 (£31,967) from its 24 sites to lift its running tally to $1.22m (£1.01m) after four weeks in play. It screens in 76 sites across this week, with several one-night-only encores.
CURZON ARTIFICIAL EYE
Joachim Lafosse's Cannes title After Love posted a $28,000 (£23,070) UK debut from its ten sites through Curzon Artificial Eye.
UPCOMING RELEASES
This week sees saturation releases for eOne's The Light Between Oceans (opens November 1), Warner Bros' The Accountant, Sony's A Street Cat Named Bob and Universal's Nocturnal Animals.
Dogwoof's Richard Linklater: Dream Is Destiny, Studiocanal's The White Knights and Peccadillo Pictures' Girls Lost are among the films receiving a limited release.