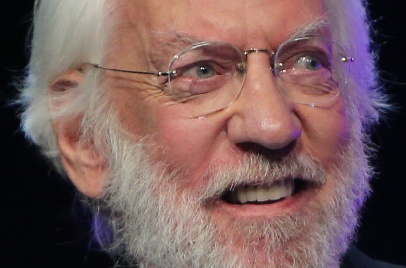 Donald Sutherland has joined art scam thriller The Burnt Orange Heresy, which started production on Thursday (27) by Lake Como, Italy.
Claes Bang, Elizabeth Debicki and Mick Jagger star for producers David Zander of MJZ, William Horberg of Wonderful Films, and Donnybrook producer David Lancaster of Rumble Films.
Giuseppe Capotondi directs the contemporary story about an art critic (Bang) who embarks on a romance with an American abroad (Debicki).
The lovers travel to the Lake Como estate of an art dealer (Jagger) who offers the critic an introduction to a famous reclusive artist if the critic can steal one of the painter's masterpieces. Sutherland will portray the artist. Scott B. Smith adapted the screenplay from the cult novel by Charles Willeford.
HanWay Films handles international sales, and CAA and UTA Independent Film Group represent US rights.
Carte Blanche Cinema has joined as executive producer and financier, and Ingenious Media is providing production financing. Sienna Aquilini of Carte Blanche Cinema, Aeysha Walsh of MJZ, and Stephanie Wilcox of Rumble Films serve as executive producers.
HanWay Films MD Gabrielle Stewart said, "It's been exciting to see this screenplay just get better as the filmmaking team have established the story in a contemporary setting and worked on the characters to best use Jagger's magnetic personality and Sutherland's immense talent. Debicki, Bang, Jagger, Sutherland and Lake Como in a sexy story of ambition, blackmail and a deadly art hustle… a dazzling proposal."