Action star Donnie Yen, director Teddy Chen and actress Michelle Bai to attend London Film Festival premiere.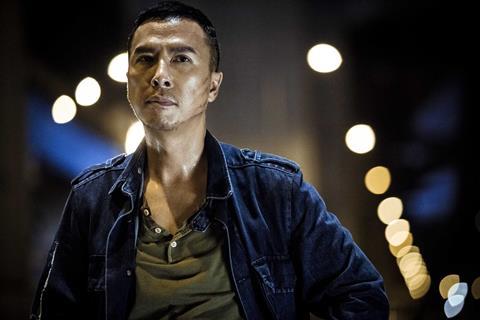 The 58th BFI London Film Festival (Oct 8-19) is to host the world premiere of Kung Fu Jungle (Yi Ge Ren de Wu Lin), attended by director Teddy Chen, action super star Donnie Yen (Ip Man) and actress Michelle Bai.
The film has been added to the festival's Thrill selection and will screen premiere on Oct 12 at the Empire Leicester Square Cinema.
Yen plays Hahou, a former martial arts instructor, imprisoned after accidentally slaying an opponent. But when a vicious killer (Wang Baoqiang) starts targeting martial arts masters, the instructor offers to help a police inspector (Charlie Young) in return for his freedom. Bai plays the woman loved by Hahou who is threatened by the killer.
LFF director Clare Stewart described the film as "a breathtaking thrill-ride" and said she was "honoured" that the festival had been chosen by Emperor Motion Pictures to host the premiere.
Director Teddy Chen said: "It is my first film to cross martial arts combat in a contemporary Hong Kong action film with elements of a thriller and crime detective story."
Chen is best known as the director of Bodyguards and Assassins and The Accidental Spy).
Yen also directed three action scenes in the film including the beginning and end scenes – credited as action director alongside martial arts director Yuen Bun (Flying Swords of Dragon Gate) and Yan Hua.
Yen is currently shooting Crouching Tiger, Hidden Dragon II in Auckland.
Kung Fu Jungle is presented by Emperor Film Production Company Limited, Sun Entertainment Culture Limited and Beijing Silver Moon Productions.
Produced by Albert Lee with executive producers Albert Yeung, Alvin Chau, Yan Xiaoming and producers Catherine Hun, Alex Dong and Song Ning; the line producer is Ray Chan, associate producers Paul Au and Gin Lau.
The original story is by Teddy Chen and Lau Ho-leung, with a script written by Lau Ho-leung and Mak Tin-shu with script consultant David Chan.
Behind-the-camera talent includes director of photography Horace Wong (HKSC), editors Cheung Ka-fai (HKSE) and Derek Hui; production design by Ken Mak, art direction by Lam Wai-kin, costume design by Dora Ng, visual effects by Enoch Chan with original music by Peter Kam Pui Tat.
International sales by Emperor Motion Pictures, Hong Kong.