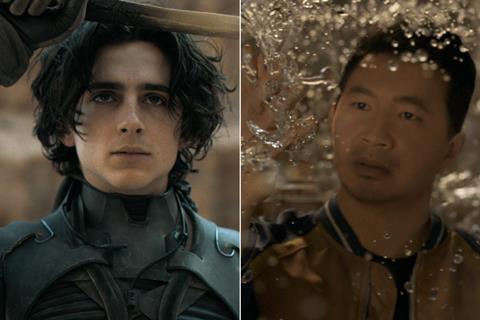 Worldwide Box Office September 17-19 2021
| | | | | | | |
| --- | --- | --- | --- | --- | --- | --- |
| Rank | Film (Distributor) | 3-day (World) | Cume (World) | 3-day (Int'l) | Cume (Int'l) | Territories |
| 1 | Shang-Chi (Disney) | $42m | $320.6m | $20.3m | $143.7m | 44 |
| 2 | Dune (Warner Bros) | $36.8m | $36.8m | $36.8m | $36.8m | 24 |
| 3 | Cloudy Mountain | $18.6m | $19.1m | $18.6m | $19.1m | 1 |
| 4 | Free Guy (Disney) | $13.6m | $298.3m | $8.4m | $189.7m | 49 |
| 5 | Paw Patrol: The Movie (Paramount) | $7.4m | $103.2m | $5.6m | $66.1m | 56 |
Credit: Comscore, all figures estimates
Dune makes powerful start in first wave of markets
UPDATED: Warner Bros and Legendary's Dune has begun its international rollout with a very encouraging confirmed $37.9m debut in 24 markets, ranking number one in virtually all those territories.
While the headline number is below the international debuts of recent titles such as Shang-Chi And The Legend Of The Ten Rings ($56.2m) and Black Widow ($78.8m), the staggered release for Dune complicates comparisons.
In like-for-like markets, Warner Bros Pictures International executives said Dune is 41% ahead of Black Widow after one weekend, and 70% ahead of Shang-Chi.
IMAX delivered $3.8m (roughly 10%) of Dune's box office total from just 142 screens, and a $25,000+ screen average. Dune set pandemic-era opening-session records for IMAX in 10 territories including Russia/CIS, France and Germany.
Those three countries also lead the way in total box office for Dune, with Russia/CIS delivering an estimated $7.8m (a 73% share of the top five films), France $7.5m since last Wednesday, and Germany $5.2m.
Next best for Dune are Italy ($2.5m), Spain ($2.4m), Netherlands ($1.4m), Ukraine and Taiwan (both $1.3m). In Italy, Dune delivered the best opening for an international film in the pandemic era.
A further eight smaller markets are set to open this coming weekend, but a fuller picture of Dune's true box office potency will emerge when the film is released in more key markets – including the US, China, UK/Ireland, Japan, Mexico and Brazil – in mid-October.
Denis Villeneuve directs this adaptation of the 1965 Frank Herbert sci-fi novel, which was previously made into a David Lynch-directed film that grossed $30.9m in North America when released in 1984. Villeneuve's Blade Runner 2049 grossed $259m worldwide in 2017, and his Arrival reached $203m in 2016.
Also for Warner Bros, Malignant saw its weekend box office fall by more than half from the previous session. Total after two weekends of wide play (three weekends in the case of select early markets) is $9.9m in North America, $14.8m for international and $24.6m worldwide. The film fell from third to sixth place in the global rankings.
Shang-Chi And The Legend Of The Ten Rings tops global ranking
UPDATED: While Disney's Shang-Chi And The Legend Of The Ten Rings ceded the international box office crown to Dune for the September 17-19 weekend, the film retained top honours in the global rankings. Shang Chi delivered a confirmed $21.7m in North America, and $20.6m in 43 international markets, combining for $42.3m.
After three weekends of play, cumulative totals are $176.9m in North America, $144.1m for international, and $321m worldwide.
Shang-Chi remained the number one film in key markets Australia, Brazil, Mexico and UK/Ireland – all territories where Dune has yet to open. Overall, the film dropped 44% in international markets from the previous weekend.
For cumulative totals, UK/Ireland leads the way among confirmed results for international territories, with $21.8m, ahead of South Korea ($12.6m) and France ($9.2m). Based on estimates, next come Russia/CIS ($7.6m), Japan ($7.0m), Germany ($6.7m) and Hong Kong ($6.5m).
Shang-Chi's $321m global tally after three weekends compares with $315m for Black Widow at the same stage of release. Shang-Chi is now the fourth-biggest US studio title of 2021, behind Fast & Furious 9 ($716m), Godzilla Vs Kong ($468m) and Black Widow ($378m).
Shang-Chi has yet to open in China, and also most of southeast Asia where cinemas mostly remain closed. Next to open the film is Indonesia this coming weekend.
Free Guy closes in on $300m worldwide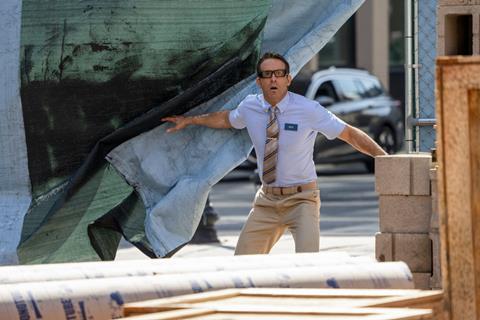 With Chinese title Cloudy Mountain ranking third behind Shang-Chi and Dune in the global rankings (see China box office report), fourth-place honours goes to Disney's Free Guy which continues its strong run in its sixth weekend of release.
Weekend box office was a confirmed $5.1m in North America (dropping just 7% from the previous session) and $8.7m for international, combining for $13.8m.
Cumulative totals are $108.5m for North America, $190m for international, and $298.5m globally. Free Guy is the fifth-biggest US studio release of 2021 at the worldwide box office.
Free Guy has benefited from being one of the few US studio titles this summer awarded a release in China, where it has grossed $85.6m so far. Free Guy is the third-highest-grossing US studio title in China since cinemas reopened in July 2020 – behind Fast & Furious 9 ($204m) and Godzilla Vs Kong ($189m).
Outside North America and China ($85.7m), UK/Ireland leads the way for Free Guy with a confirmed $21.1m, ahead of Russia/CIS ($10.8m), France ($5.2m) and Saudi Arabia on an estimated ($4.7m).
Fresh openings push Paw Patrol past $100m
While the likes of Malignant slid down the rankings, Paramount's Paw Patrol: The Movie remained in fifth place at the global box office, buoyed by new openings in Australia, Sweden, Greece, Finland and Taiwan. The family film grossed an estimated $5.6m in international markets at the weekend, plus $1.8m in North America. Cumulative totals are $66.1m for international, $37.1m in North America and $103.2m worldwide.
Top market at the weekend was Australia with $709,000, followed by Germany with an impressive $546,000 in its fifth weekend of play. Italy releases this coming weekend.
Mexico and Australia boost Ainbo
Independently produced animated feature Ainbo: Spirit Of The Amazon has been largely off the radar of global box office analysts since beginning its international rollout in early markets Ukraine, Singapore and Russia/CIS in the spring, but is now picking up more speed. The film landed in fourth place in Australia at the weekend (with $105,000 for local distributor Rialto) and in sixth place in Mexico.
To date, the environmentally themed adventure has achieved 320,000 admissions in Russia/CIS, 285,000 admissions in France and 130,000 admissions in Benelux. Cinema Management Group handles worldwide sales on this Peru, Netherlands and US international co-production.