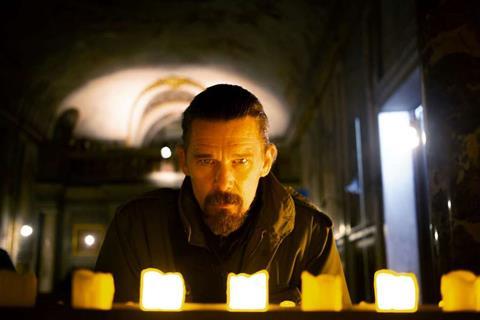 Signature has acquired UK-Ireland distribution rights to three new titles, including Abel Ferrara's Zeros And Ones starring Ethan Hawke.
Zeros And Ones premiered in the international competition at Locarno Film Festival in August, with Ferrara winning the best director prize.
Set near Vatican City in Rome, Ferrara's thriller follows a US soldier, played by Hawke, in the aftermath of an apocalyptic siege as he navigates a world of fear and paranoia. Signature plans to release the title in the first quarter of 2022.
The distributor has also boarded Luis Prieto's Shattered, starring Frank Grillo, John Malkovich, Sasha Luss and Cameron Monaghan. It centres on a rich divorcee who falls in love with a woman who is not all she seems to be; after an injury leaves him housebound, he discovers her nefarious intentions.
The film is currently in post-production, with a release set for the second quarter of 2022. Spanish filmmaker Prieto recently directed Netflix series White Lines, having made features including Kidnap with Halle Berry and 2012's Pusher, executive produced by Nicolas Winding Refn and an English-language remake of the Danish director's 1996 thriller.
Signature has also acquired Scott Mann's UK thriller The Fall, about two women who get stuck up an abandoned 2,000 ft-tall radio tower. Jeffrey Dean Morgan and Grace Fulton lead the cast; the film is in post-production and set for a Q2 2022 release.
All three titles were acquired from US-based sales agent Capstone Pictures, with which Signature has previously worked on 2021's Come Away and Vanquish as well as 2020's The Iron Mask.