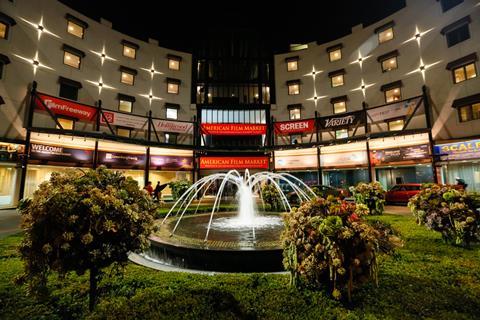 One year on from what attendees described as the slowest AFM in a long while, prospects were looking up heading into the 2018 iteration as early presentations and a flurry of A-list packages have already sparked a sense of optimism.
On Tuesday Mister Smith hosted a packed session at The Arclight featuring promos from Samuel L Jackson drama The Banker, Charlie Hunnam, Jack O'Connell and Jessica Barden drama Jungleland, and Constantin Films' sci-fi Haven – Above Sky. There has been a positive early response to the Hilary Swank sci-fi I Am Mother.
Voltage staged a lively session at the AMC that included first footage from its Jessica Chastain action thriller Eve, which Tate Taylor is directing. TIFF pick-up Skin and After also featured.
Today [Wednesday] brings morning presentations from the Endeavor Content international sales team led by Alex Walton, and Alison Thompson and Mark Gooder's Cornerstone. STX International will present the first trailer from Uglydolls at The Arclight. On Saturday Taylor will be talking up AGC Studios' Breaking News In Yuba County, while Ron Howard will trumpet White Horse Pictures' Pavarotti documentary, sold by HanWay.
The hot new packages that are cropping up most frequently in conversation with buyers include FilmNation's George Miller epic Three Thousand Years Of Longing to star Tilda Swinton and Idris Elba, Dev Patel's directorial debut Monkey Man through Endeavor Content, and Millennium Media's Red Sonja revival.
Another project that has triggered early talk is Automatik's love triangle drama Mainstream to star Andrew Garfield, Jason Schwarzman, Nat Wolff and Maya Hawke. Gia Coppola will direct and Wild Bunch is launching sales, with CAA Media Finance handling US rights, as it does on Three Thousand Years Of Longing.