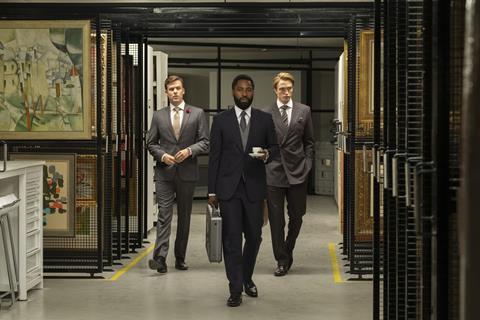 Christopher Nolan's Tenet has received a turbo-charged launch in France this week, with scores of previews in major cities across the country ahead of its general release on 800 prints yesterday (August 26).
There is no official data on how the film has performed over its previews and official opening day on Wednesday as Warner Bros France is not releasing figures until August 31 and requested cinemas keep quiet about their ticket sales.
The move has prompted anger among cinema professionals in a territory where the performances of new releases are carefully scrutinised, kicking off with the very first early morning screenings at the 27-screen UGC Ciné-Cité Les Halles multiplex in Paris.
Box office analysts ignored the Warner Bros France request and revealed the Les Halles figures on Wednesday morning nonetheless. Tenet topped the bill with 151 spectators over two screens. According to local cinema site Debriefilm this compared favourably with Nolan's Dunkirk which drew 154 spectators in the same early morning slot without this year's new physical distancing measures.
Benoit Delépine and Gustave Kervern's Berlinale special Silver Bear winning comedy Delete History came in second with 43 spectators.
The decision to hold fire on Tenet figures is all the more frustrating for local cinema professionals because this week is being viewed as a decisive week for the French box office.
Nolan's sci-fi thriller arrives at the end of a difficult summer for the country's some 2,000 theatres, most of which reopened for business on June 22, after 14 weeks of enforced closure due to the Covid-19 pandemic.
Cinema-loving France – which generated 213m cinema admissions in 2019, against 176m in the UK – was one of the only territories in the world to put in place a coordinated reopening of its entire exhibition pool at the same time but the drive drew mixed results.
There was a promising start in late June to early July, buoyed by local productions such as comedies Tout Simplement Noir, Divorce Club, François Ozon's coming-of-age drama Summer Of 85 and the comedy drama How To Be A Good Wife. But this momentum slowed late July when US studio releases such as Mulan and Tenet failed to materialise and local mainstream titles were also held back for the autumn.
Exceptionally good weather combined with ongoing health fears around cinema-going and a collective national desire to be outside after the tough lockdown of the spring and early summer also played their part.
The box office over July and August stood at some 70% to 80% lower than for the same period in 2019. According to French box office site CBO, there were 8.1m admissions between June 17 to August 18, against 33.9m in the same period in 2019.
"It's been a paradoxical situation," said Marc-Olivier Sebbag, managing director of the National Federation of French Cinema (FNCF). "Globally over the summer there were 70 to 80% less entries but on a film by film basis, the public was there. Tout Simplement Noir achieved 700,000 admissions, Summer Of 85, is on track for 400,000 entries, and [children's comedy] Les Blagues De Toto, for at least 600,000. But overall admissions remained low and were not enough to achieve profitability.
"Things have started picking up over the past week. It's small incremental steps, admissions were 65% down instead of 70%. This week will see the release of Tenet, Delete History, The New Mutants and Small Country: An African Childhood – four strong titles appealing to different segments of the cinema audience. Our hope is that these all these films will help kick-start the cinema-going dynamic."
Alexandre Hellmann, the owner-manager of the historic Le Grand Rex cinema in central Paris, is among the many exhibitors in France and worldwide pinning his hopes on Tenet.
"It's not only about its ability to bring back spectators. If Tenet is a success against the backdrop of Covid it will encourage other distributors to release their films too," said Hellmann, who has his fingers crossed that Warner and Disney will retain their September dates for Wonder Woman 1984 and The King's Man.
His family's historic seven-screen theatre is renowned for its 2,700-seat Grande Salle featuring Le Grand Large - a 24x11-metre dropdown screen billed as one of the largest in Europe. The programme revolves around large-scale screenings of US blockbusters, cult classic cinema programmes and themed screening marathons.
Buzzy preview
The venue hosted one of the first and biggest Tenet preview events in Paris on Monday evening, welcoming some 3,000 spectators across four screens. Capacity was running at 70% capacity due to Covid-19 physical distancing measures which involved leaving an empty seat between groups of spectators.
Spectators were also required to wear masks as they moved about the foyer and theatre but not while seated and few people kept them on for the three-hour programme. (French prime minister Jean Castex has since indicated that it will soon be obligatory to keep masks on in cinemas while seated.)
There was an electric atmosphere in the Grande Salle, with the 1,800-strong audience whooping and cheering as Le Grand Large screen descended from the ceiling for the start of the film.
The evening held particular significance for Hellmann and his staff because it marked the reopening of the cinema after its exceptional closure this August due to a lack of fresh films and spectators. It was the first time the venue has closed over the summer during its 88-year history.
"We reopened quickly in June in the expectation that we would be able to show Mulan, The New Mutants and Tenet but their releases dates kept getting put back," recounted Hellmann. "At first we compensated for this by running lots of retrospectives devoted to the likes of Nolan, Spielberg and Kubrick and screening marathons. They were well received and we were pleased with results.
"As August approached it got harder and harder, especially as Parisians started clearing out for the summer – after the lockdown, no-one wanted to hang around the city this year. Cinemas like Le Grand Rex and its wide screen need big US blockbuster type fare. Our programme doesn't feature many French films. It didn't make sense to keep it open for a handful of spectators."
Green shoots
The cinema is now running at full-tilt again, with 11 Tenet screenings a day across three screens. It is also gearing up for a Harry Potter screening marathon this weekend and a big event screening for the re-release of cult Japanese animation Akira. Other titles in its programme include Unhinged and another new release The New Mutants.
It remains to be seen if the energy and momentum seen around the Tenet previews continues into the general release but cinema chains and independent theatres appear to betting on this being the case.
Down the road from Le Grand Rex, UGC Ciné-Cité Les Halles is running 16 Tenet screenings a day, with a fresh screening starting, on average, every hour.
In the meantime, reviews by France's notoriously tough film critics have been mixed. Le Monde's review ran under the headline "Nolan loses his spectators in space and time" while Liberation suggested the picture's complexity and hi-octane pace "were unable to mask the emptiness of the content, the general lack of warmth and life and significance for the lives of the spectator."
These views are unlikely to have a big impact on the performance of the film in France where Nolan has a strong following. His most successful French release to date is Inception, which drew 5m spectators, for a rough gross of $37m, while Dunkirk clocked some 2.6m admissions for a gross of around $20m.
Local industry reaction
The hype around Tenet and the eagerness of the cinema chains to devote a high percentage of their screens to the film has prompted a mixed response from France's wider film community.
Most film professionals welcome the arrival of Tenet, believing a strong performance for the film will have a positive knock-on effect for other films on release in this period by encouraging spectators back into the theatres.
Some express dismay at the reliance of the country's exhibition chains on US blockbuster fare. Smaller distributors, who had easy access to screens over the summer, are now finding themselves squeezed again as they try to programme their films.
Alexis Mas, CEO of Condor Distribution, which successfully released Agnieszka Holland's Mr Jones on June 22 and Casey Affleck's Light Of My Life on August 12, said the theatrical career of the latter has been shortened by two weeks by the arrival of Tenet.
"At our programming meeting on Monday it quickly became clear that it would be tough finding space for the film from this Wednesday," he told Screen. "The hierarchy has returned and we're going to have work hard again to get our films slots in cinemas."
Mas remains positive about the results for Light Of My Life, which is on target to top 100,000 admissions, for a rough gross of $800,000. "It's a good result for a US indie film," he said. Affleck's last directorial credit, the 2010 drama I'm Still Here drew just over 7,000 spectators in France. Mas also thinks success for Tenet will be a good thing too.
Challenges
In the backdrop, the medium term challenges facing France's exhibition and distribution sector remain complex. As in much of Europe, there has been a steady uptick in Covid-19 cases in France in recent weeks with more than 5,500 cases reported over the course of 24 hours on August 26.
The French government has ruled out blanket national lockdowns, fearing the further economic damage it will wreak, saying the country has to learn to live with the virus. Localised lockdowns and restrictions could still be implemented, however, while reignited public fears over the virus could also impact the return to cinemas.
Cinemas are also waiting to learn what level of state financial support they can expect after six months of revenue losses.
The government is set to announce a vast $2.4bn recovery programme for the arts and culture sector on September 3. The FNCF is lobbying hard for state aid as well as the continuation of France's partial unemployment scheme (the French equivalent of furlough) until the end of December.
"The objective is to stay afloat as the current releases and those of October and November get the market back-up and running again and we tip back into profitability," explained a cautiously optimistic Sebbag.
France summer box office 2020 (June 17-August 18)
Title, admissions, gross, distributor
1.Tout Simplement Noir (Fr), 685,700, $5.4m, Gaumont Distribution
2. Scooby! (US), 676,017, $5.3m, Warner Bros France
3. Divorce Club (Fr), 558,835, $4.4m, SND
4. Les Blagues De Toto (Fr), 468,635, $3.7m, SND
5. How To Be A Good Wife (Fr), 455,788, $3.6m, Memento Film Distribution
6. Greenland (US), 351,574, $2.7m, Metropolitan FilmExport
7. Summer Of 85 (Fr), 327,117, $2.5m Diaphana Distribution
8. Onward (US), 292,849, $2.3m, Disney
9. De Gaulle (Fr), 258,911, $2m, SND
10. Perfumes (Fr), 247,127, $1.9m, Pyramide Distribution
* period running June 22 to August 18, figures not cumulative.
Source CBO Box Office