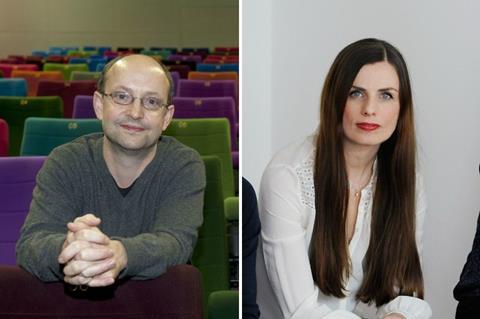 The UK Pavilion is hosting a trio of panels on Saturday (May 21): on international co-production in Europe following the EU's withdrawal from the EU; how to access original intellectual property (IP) for film; and how to make short-form work that makes a big splash on the international festival circuit.
Screen International editor Matt Mueller will be chairing the panel, titled 'Passport to Europe' (16:00-17:00) and exploring co-production opportunities in a post-Brexit landscape.
"The discussion will look at collaboration between UK and European producers – what the challenges and opportunities are," said Mueller.
The speakers are Mike Elliott, Emu Films (UK); Janine Jackowski, Komplizen Film (Germany); and Ed Guiney, Element Pictures (UK/Ireland), who will explore what it's like having a company based both inside and outside of the EU, and what larger European company Fremantle's acquisition of the company might mean for future projects.
Earlier in the day, Screen Scotland's executive director Isabel Davis will chair the panel titled: 'Sparking an Idea – accessing IP'. (14:00-15:00). How do producers and writers go about sourcing and adapting original ideas to turn them into films? Speakers include Anne Beresford, producer, Artemisia Films; Anwen Griffiths, Partner Lee & Thompson; and Chris Young, producer, Young Films. Moderated by Isabel Davis, executive director, Screen Scotland.
"At Screen Scotland we're building connections between the film and TV industry and the talent emerging from the Edinburgh Festival Fringe, so exploring how producers navigate the theatre landscape is of particular interest, and exploring the cultural and creative differences between screen and other storytelling practices that can spark joy or conflict," said Davis.
"I'm interested in digging into the producers' process of finding and developing new material," she added. "Do Chris [Young] and Anne [Beresford] spend their lives inhaling news stories, plays, books, spec scripts and so on, or does the search begin elsewhere? How do they know what will work on screen - is an audience for stage or a book a good indicator of screen success? How much is raw instinct?
"In Anwen Griffiths, partner at Lee & Thompson, we have a seasoned legal and business affairs cross-media specialist, to give great advice on what producers and story originators need to bear in mind as they start the development process."
In the morning (11:00-12:00) a panel co-hosted by BFI Network's Caragh Davison and British Council film consultant and new talent lead Joanne Duncombe will spotlight how best to make distinctive short form work, in discussion with filmmakers Olive Nwosu and John Ogunmuyiwa.
"We're hoping to give people an insight into the nuts and bolts of shorts funding and production in the UK as well as an insight into strategising release in a constantly changing festival landscape," said Davison.