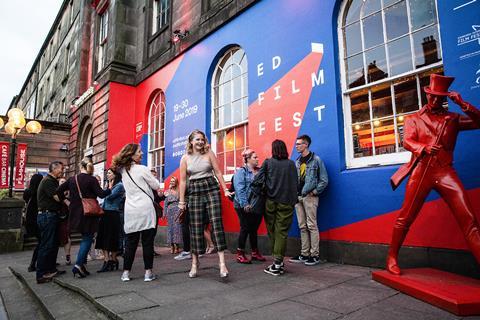 The Edinburgh International Film Festival (EIFF) is planning to host a virtual edition in August and has assembled a new team to deliver the event, providing funding can be secured.
The festival is understood to have recruited Nick Varley, the founder and former co-CEO of distributor Park Circus, to oversee the proposed online-only edition, which is dependent on funding from Screen Scotland. The consulting role is a temporary one to assist with the planning of this year's edition. Varley was previously director of Glasgow Film Festival, when it launched in 2005.
It is not yet known whether there will be any physical components, should the festival go ahead.
Potential titles are being explored by a programming team that includes Christophe Mercier, a former executive at Fox Searchlight and Warner Bros, who is working on an international selection; and Nada Cirjanic, a former exec at Great Point Media and Independent Film Sales, who is focused on UK titles.
The interim appointments follow the departure of Diane Henderson, who recently left her role as deputy artistic director after 15 years at the festival, while Rod White continues as head of programming at Edinburgh's Filmhouse Cinemas after stepping in to programme the online EIFF At Home event in 2020.
According to sources, sales agents are being approached to discuss titles for a scaled-back, virtual edition of EIFF in August. The festival also has access to new streaming platform Filmhouse at Home, which was launched on March 26 by Filmhouse Cinemas – operated by EIFF's parent charity organisation, the Centre for the Moving Image (CMI).
CMI chief executive Ken Hay told Screen: "We really want there to be an edition of EIFF in 2021 and we're currently exploring all options for how this can happen – for the industry, for filmmakers and for audiences. We're aiming to be in a position by early May to give more information on what shape and form the festival may take."
August move
It would mark a return for EIFF, which usually takes place in June but was postponed in 2020 due to the pandemic. It might also pave the way for a return to an August slot in the calendar, which has been called for since its move to June in 2008.
August dates would prove challenging for EIFF, with major venues booked for the annual Fringe Festival and sponsors being approached over several events across the same month.
But Screen understands that candidates who have been approached for the new chief creative officer role at the festival have been told of plans for a shift to August. Interviews for the position are set to take place this month, with an aim to have the role filled by mid-summer, with their first festival set for 2022. They would report to Ken Hay, CEO of CMI.
Programming a festival in August will also come with major challenges in terms of securing fresh titles, as Cannes has rescheduled for July while Venice, Telluride and Toronto will take place in September. The BFI London Film Festival will also be looking to select new films for its October event.
It is understood that a decision on hosting an online-only EIFF will be made in the coming weeks.