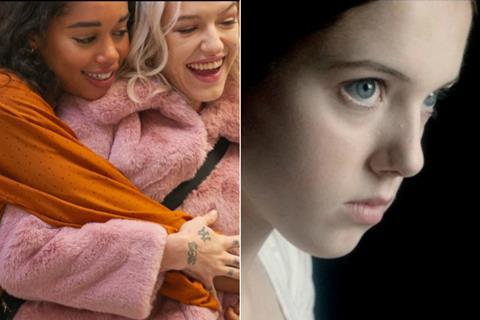 The Edinburgh International Film Festival (EIFF) has launched its full programme with 18 world premieres, 12 international premieres, eight European premieres and 78 UK premieres for its 73rd edition of the festival (June 19-30).
Jamie Adams' Balance, Not Symmetry, a drama about a Glasgow art student, which has a soundtrack written by Scottish rock band Biffy Clyro, will have its world premiere as the People's Gala screening at the event. It stars Laura Harrier, Bria Vinaite and Lily Newmark. Biffy Cyro lead singer Simon Neil co-wrote the screenplay with Welsh writer-director Adams.
Adams also has a second feature at the festival called Bittersweet Symphony, which will screen in the Best Of British strand. Suki Waterhouse stars as a musician whose Hollywood dreams are on the verge of becoming a reality.
Further debut films in Best of British include Carmilla, written and directed by Emily Harris, a coming-of-age mystery love story inspired by Sheridan Le Fanu's 1872 gothic novel of the same name; Greta Bellamacina's drama Hurt By Paradise; Matt Roberts' romantic comedy Masters Of Love; Adewale Akinnuoye-Agbaje's skinhead story Farming; and William McGregor's Welsh folk tale Gwen. The latter two premiered at Toronto 2018.
Historical spy drama Liberté: A Call To Spy, the second film by US producer-director Lydia Dean Pilcher, is making its world premiere in the American Dreams sidebar, which is also hosting the international premieres of Adam Randall's pyschological thriller I See You starring Helen Hunt; and Andrew Patterson's sci-fi The Vast Of Night.
The World Perspectives section includes the world premiere of Shelagh McLeod's Canadian title Astronaut, starring Richard Dreyfuss as a lonely widower who dreams of a trip to space.
The Documentaries programme will play Tom Donahue's This Changes Everything, examining the challenges faced by women filmmakers and featuring interviews with Geena Davis, Meryl Streep, Natalie Portman and Taraji P. Henson amongst others.
All of the British films in Best of British and Gala sections are eligible for the festival's Michael Powell award for best British feature.
Events
EIFF's In Person discussions programme returns this year, with Danny Boyle as the headline guest. Boyle's new film Yesterday, which premiered at Tribeca earlier this month, will also play in the festival.
Jack Lowden, star of last year's Michael Powell award-winner Calibre; documentarian Nick Broomfield; and filmmaker Pollyanna McIntosh will all take part in conversation sessions.
Sixteen Films producer Rebecca O'Brien will also host a discussion with Spanish director Icíar Bollaín as part of a country focus on Spanish cinema through three strands on modern cinema, cult cinema and Bollaín's work.
The Cinecuisine strand will screen documentaries celebrating Scottish cuisine, including Chef's Diaries: Scotland. Food For Thought with panel discussion and tasting session from the Edinburgh School of Food & Wine.
The festival is also screening a retrospective of late filmmaker Agnès Varda titled 'The Features Of Agnès'; as well as 'Cage-a-rama 3D', a look back at the work of Nicolas Cage with 3D presentations of Drive Angry and Ghost Rider: Spirit Of Vengeance.
Ninian Doff's Boyz In The Wood and Adrian Noble's Mrs Lowry & Son were previously announced as the opening and closing films of the event respectively.