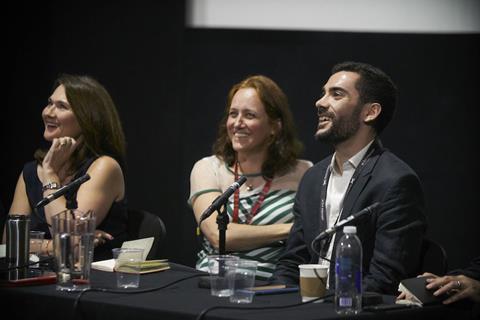 The industry programme for this year's Edinburgh International Film Festival (EIFF, June 19-30) has been revealed.

The highlights include a session titled 'Casting Light on Casting Directors', featuring members of the Casting Society of America's European chapter.
'Minding Non-Fiction', co-hosted by the Scottish Documentary Institute, will look at ethical documentary filmmaking and best practices for the mental health and wellbeing of both filmmaker and subject.
In the animation section, 'Women In Animation: The State of the Art' will feature women working in the sector, looking at the challenges for experienced and emerging talent.
This year's territory focus is on Spain, mirroring the main festival programme, and will welcome eight Spanish producers for meetings with UK counterparts.
EIFF's Works In Progress strand will showcase ten new UK films to sales agents, distributors, financiers and festival programmers. Titles are selected via open call, with a £2500 prize for the most promising project.
Ten projects will be selected for the fifth edition of the Distribution Rewired marketplace, with roundtables and meetings looking at the last five years in distribution and considering more creative approaches.
Finally, the ninth EIFF Talent Lab has selected 30 filmmakers for a four-day programme of workshops, panels, masterclasses and one-to-one sessions. They will meet with representatives from companies including Film4, BBC Films, HanWay Films and Pathé.
The 2019 Talent Lab participants are:
Screenwriters: Elaine Gracie, James Ley, Lynsey Murdoch, James Topham
Writer/Directors: Fateme Ahmadi, Christopher Bogle, Declan Dineen, Saeed Farouky, Tom Gentle, Stefan Georgiou, Rory Gibson, Jacqueline Pepall, Alison Piper, James Price, Simone Smith, Taratoa Stappard
Producers: Lisa Davies, Kira Fitzpatrick, Jenni Gould, Tom Kimberley, Fi Lewis, Jessie Mangum, Lucy Meer, Miriam Newman, Hélène Sifre, Reece Smith, Sabina Smitham, Oliver Sunley, Dominique Webb, Rebecca Wolff
This year's EIFF opens with Ninian Doff's feature debut Boyz In The Wood, closing with Adrian Noble's Mrs Lowry & Son.