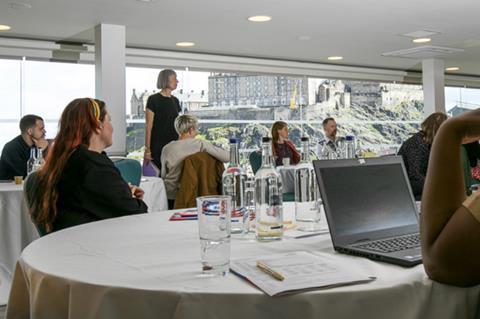 Talent Lab Connects (TLC), Edinburgh International Film Festival's development programme, will now take place online following the postponement of the festival due to the Covid-19 shutdown.
The programme of script editing and mentoring support for alumni of the festival's Talent Lab will run from April to December 2020, with all workshops and mentoring taking place remotely.
Story editor Kate Leys will head up the group of industry mentors guiding the selected teams towards development of a feature film or serial drama project.
TLC launched last year, and is funded through the Scottish Government, the City of Edinburgh Council and the Edinburgh Festivals' PLACE programme.
The six projects taking part this year are:
Carla (feature) Dir/scr:: Catriona Macinnes; producers: Rebecca Mark-Lawson, Garry Paton;
Dad Joke (Series) Scr: Joshua Robertson; Dir/scr: David Abramsky; producer: Alexandra Blue;
Denial (Series) Scr: Elaine Gracie; producer: Alexandra Blue;
Moscow Molly (feature) Scr: Nicole Paglia; producer: Jessie Mangum
The Tulip Touch (feature) Scr: Jenna Jovi; producers: Jen Corcoran, Jessie Mangum, Sophie Reynolds;
Valerie & Me (feature)Scrs: Bex Harvey, Christian Azzola; dir: Jane Gull; producer: Georgina French.