The Pentland Studio project hopes to move ahead with its film and TV studio development outside Edinburgh, pending a greenlight from government.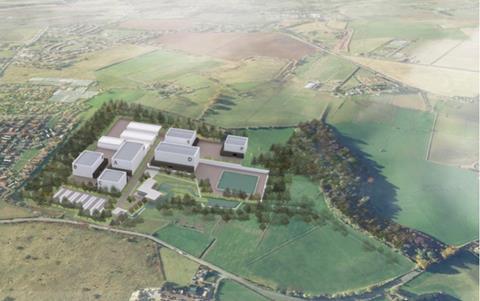 The final papers – some minor details about protection of any bats on the site – are set to be submitted to Scottish Government's Reporter, David Bullya, on July 11.
PSL Land Ltd, the private company spearheading the studio and academic complex, is hoping Bullya will make his recommendation to Scottish Ministers by mid-July, with the final Ministerial decision to follow soon after that, likely in August.
If the planning permission in principle is approved, then within six months the planning in detail for the studio, academy and student accommodation part of the project would be submitted.
The team could break ground on the studio as early as February 2017 and could be open by the first quarter of 2018.
The site is 9km from central Edinburgh and 77km from central Glasgow. The site comprises 86 acres and PSL aims to build two 15,000 sq ft studios, two 20,000 sq ft stages and two 30,000 sq ft stages; plus a 'paddock' exterior water stage, workshops, two backlots and office buildings.
There are also plans for the site to include a Film Academy (potentially in partnership with Edinburgh Napier University) that can welcome up to 600 students, with student accommodation that can also be used by film crews when classes are not in session.
PSL is also planning to build a Tier-4 data centre facility (the first in Scotland of its size) and an energy centre to serve the entire site's power and heating requirements.
The application for Planning Permission in Principle was lodged on May 2, 2015, and Midlothian Council's non-determination meant it was called in by Scottish Ministers on Dec 10.
The anticipated total build cost is about £156m, anticipated total development cost of about £232m, and estimated annual rent is £20m+.
Jim O'Donnell, development director for the PSL and a previous development manager for Warner Bros.' Leavesden Film Studio, notes that this particular site outside Edinburgh was selected after visiting 28 sites across Scotland.
"It's the first new build of this scale in the UK," O'Donnell said of the "future-proof" facilities. "This is the best site, it meets all the criteria we needed and most importantly it's where the customers want to be."
Other proposed Scottish studio project sites include a redevelopment of Film City Glasgow and the land between Film City and the BBC's site at Pacific Quay; and further expansion of Cumbernauld, 15 miles from Glasgow and the base for the Outlander TV series.
O'Donnell doesn't see those as competitors because he thinks there will be enough business to go around. "We could have all of these and Scotland would still not meet its potential," he told Screen.
Deloitte is advising PSL on the project.