Some 24 film producers from across Europe took part in EFP's networking platform Producers on the Move.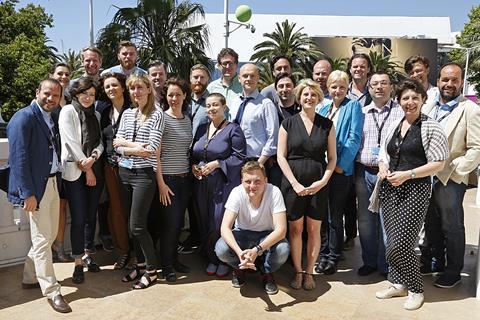 Carefully selected by the European Film Promotion's member organisations, 24 film producers took part in this year's Producers on the Move at Cannes (May 17-19).
Now in its 15th year, EFP's networking platform spotlights emerging European producers and includes working sessions and various opportunities for discussions on future projects.
The 24 producers of this year's platform, seen in the photo above, are:
from left: Mathias Rubin, Récifilms (France), Teréz Hollo-Klausen, Anna Kron Film (Norway), Olivia Musini, Cinemaundici (Italy), Henning Kamm, Detailfilm (Germany), Marta Velasco, Áralan Films (Spain), Árni Filippusson, Mystery (Iceland), Eva Jakobsen, Nimbus Film (Denmark), John Keville, SP Films (Ireland), Eszter Gyárfás, Proton Cinema (Hungary), Tristan Goligher, The Bureau Film Company (United Kingdom), Maya Vitkova, Viktoria Films (Bulgaria), Mark Lwoff, Bufo (Finland), Petter Lindblad, Snowcloud Films (Sweden), Tomáš Hrubỳ, Nutprodukce (Czech Republic), Konstantin Kontovrakis, Heretic (Greece), Nuno Bernardo, beActive Entertainment (Portugal), Elodie Brunner, Box Productions(Switzerland), Mátyás Prikler, MPhilms (Slovak Republic), Vanja Jambrović, Restart (Croatia), David Bijker,Bijker Film & TV (The Netherlands), Ognen Antov, Dream Factory (FYR of Macedonia), Tinatin Kajrishvili, Gemini (Georgia), Mikołaj Pokromski, Pokromski Studio (Poland), Ivan Djurović, Artikulacija Production (Montenegro)
Photo: EFP / Kurt Krieger