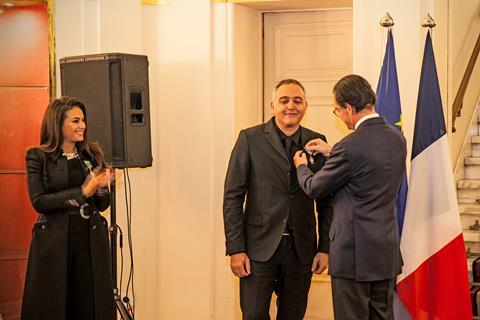 Egyptian producer and Cairo International Film Festival director Mohamed Hefzy has been feted with France's prestigious Knight of the Order of Arts and Letters (Chevalier des Arts et Lettres) honour.
Created in 1957, the order celebrates people who have made a significant contribution to the arts and literature. It has three grades commander, officer and knight.
Other cinema figures to have received the honour in the past include Italian distributor Valerio De Paolis and Sony Pictures Classics co-founders Michael Barker and Tom Bernard.
Due to Covid-19 travel restrictions, Hefzy was presented with the honour by France's ambassador to Egypt Stéphane Romatet at a special ceremony in Cairo.
Tunisian actress, producer and humanitarian Hend Sabry was also honoured with the Officer of the Order of Arts and Letters award at the same event.
Hefzy, who operates under the banner of Cairo-based Film Clinic, has strong links with France having coproduced a number of award-winning titles with French partners, including Mohamed Diab's Clash and A.B. Shawky's Yomeddine.
Popular actress Sabry's big screen career began with Tunisian director Moufida Tlatli's The Silences of the Palace which premiered in Cannes Directors' Fortnight in 1994. More recent credits include Noura's Dream and The Blue Elephant 2.