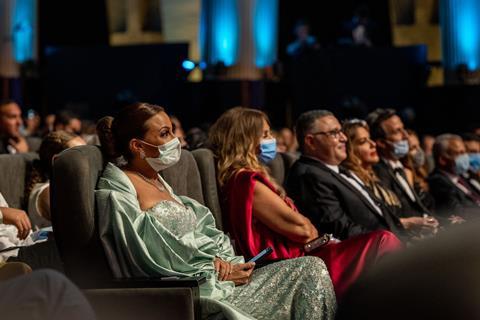 The El Gouna Film Festival's artistic director Amir Ramses has resigned abruptly from his role due to an internal management matter.
His departure comes amid a challenging fifth edition for the Egyptian Red Sea event.
Over the past two days, it has been caught up in a national media storm over 2021 Cannes Critics' Week winner Feathers which played in the main competition of the Red Sea event, running October 14-22.
The dark comedy by Egyptian director Omar El Zohairy follows a downtrodden housewife who is forced to go out to work after her controlling husband is transformed into a chicken by a magician at a children's birthday party.
It has come under fire in the mainstream media and on social networks in recent weeks after a group of veteran cinema professionals criticised the feature, saying it presented a bad image of Egypt.
This criticism has extended to El Gouna Film Festival in recent days with critics of the film saying the event should not have showcased it.
The festival put out a statement in Arabic on Wednesday standing by its decision to programme the film and emphasising its international prize-winning streak, including its recent best film win at the Pingyao Film Festival in China.
Ramses said his departure had nothing to with the controversy around Feathers, emphasising that it is a film he is proud to have programmed.
Other challenges facing the festival have included a freak fire at its main outdoor festival plaza venue 36 hours before its opening ceremony.
It also hit the international headlines after Palestinian filmmaker Said Zagha was detained and deported at Cairo airport while on the route to El Gouna as a guest of the festival to present his upcoming film in its CineGouna Platform project incubator.
Respected Palestinian actor Mohammad Bakri, who was to have received a lifetime achievement award, then cancelled his attendance in protest and also because the festival could not guarantee him safe passage.
Ironically, these problems belie one of the festival's buzziest and most successful editions to date, with cinema professionals from the region flocking to the event and a rich programme of Arabic-language and international titles filling theatres.