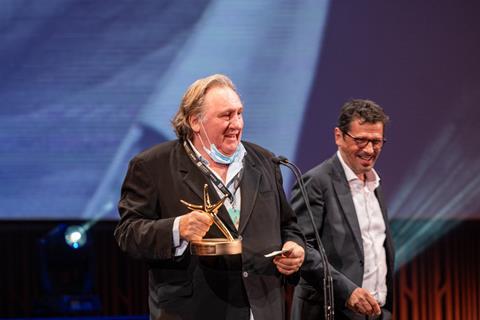 Egypt's El Gouna Film Festival kicked off its fourth edition against the Covid-19 odds over the weekend, feting French actor Gérard Depardieu and UK director Peter Webber with its special Golden Star Career Achievement Award at the opening ceremony.
Taking to the stage, Depardieu praised the festival for pulling off such a large-scale event and professed his admiration for late Egyptian film director Youssef Chahine.
A host of film and TV stars from Egypt as well as a smattering of international guests walked the red carpet at the glitzy opening event, in the Red Sea resort's new Gouna Conference and Culture Center (GCCC). Masks were de rigueur even if social distancing sometimes proved challenging for the assembled crowd.
Comparing preparations for this year's edition to a "hurdle race", festival director Intishal Al Tamimi said it was the right decision to press on with the event in spite of the health challenges in the backdrop.
"In spite of all the obstacles, we made it with the valuable collaboration of all team members," he said introducing the jury members for the three competitions, spanning the feature narrative, documentary and short films.
Tunisian filmmaker Kaouther Ben Hania's wry drama The Man Who Lost His Skin opened the festival in the presence of its star Yahya Mahayni, who won best actor in the Venice Horizons line-up this year, where the film premiered in September.
It joins 16 titles competing for the festival's $50,000 Golden Star award for best feature narrative competition alongside Arab features such as 200 Metres by Palestinian director Ameen Nayfeh and Mica by Moroccan filmmaker Ismael Ferroukhi as well as European titles, including Malgorzata Szumowska's Never Gonna Snow Again and Jasmila Zbanic's Quo Vadis, Aida, which both debuted in Venice.
Some $200,000 worth of prizes will be meted out in total across the three competitions.
Another 17 international titles are playing out of competition including Cannes 2020 label titles Another Round, Beginning, Spring Blossom, True Mothers and The Big Hit as well as Berlinale features Delete History and Berlin Alexanderplatz.
Following the example of the Venice Film Festival, which Al Tamimi attended in September, the festival is running at some 50% of its usual size this year. Its Covid-19 protocol includes capping cinema occupancy at 50%, running as many events in the open-air as possible and regular sanitisation of venues.
Prior to the festival's kick-off, Al Tamimi was expecting some 800 guests to attend the festival, from both the region and further afield. There has been no update on final numbers as yet, especially for guests hailing from Europe, where Covid-19 cases and travel restrictions have ratcheted up in recent weeks.
Alongside the screenings, the festival is also running its industry-focused CineGouana project platform and CineGouna SpringBoard conference event.
Upcoming presentations and panels on SpringBoard agenda include masterclasses by Egyptian cinematographer Ahmad Al Morsy, whose credits include The Blue Elephant and The Originals, and Meena Ibrahim, animation supervisor at Framestore Montreal, whose recent credits include The Suicide Squad and Army Of The Dead.
Webber will also discuss his 20-year career spanning Girl With A Pearl Earring and more recently documentary Inna De Yard and TV series Kingdoms of Fire in an on-stage conversation on October 31.
Projects being presented in the CineGouna platform include Palestinian-French filmmaker Lina Soualem's feature documentary Bye Bye Tiberias, Algerian director Karim Moussaoui's Obliteration and Tunisian filmmaker Mehdi Hmili's drama Streams.
The El Gouna Film Festival was launched in 2017 by Egyptian billionaire Naguib Sawiris in collaboration with his brother Samih Sawiris its luxury Red Sea resort setting of El Gouna.