EXCLUSIVE: Oscar-nominated Bouchareb explores plight of parents who lose children to ISIS.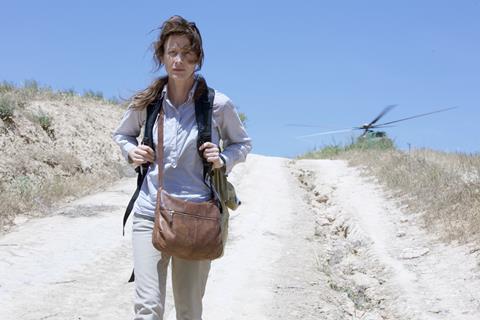 Elle Driver has boarded Jorge Michael Grau's earthquake drama 7.19 am and Rachid Bouchareb's Road to Istanbul [pictured], about a mother who goes in pursuit of her ISIS recruit daughter, ahead of the American Film Market (AFM).
The company also start pre-sales on Audrey Dana's comedy If I Were a Boy, in which she stars as a woman who wakes up with a penis, and Harry Cleven's fantasy romance Angel.
Franco-Algerian Bouchareb's Road to Istanbul stars Belgian actress Astrid Whettnall as a single mother on a quest to find her 18-year-old daughter after she leaves Belgium to join the Islamic State with a Jihadist boyfriend.
"My goal is to film the incomprehension of a mother totally caught off guard by the changes in her daughter on reaching legal age… Alone, divorced and abandoned by the authorities, she must try to understand her daughter to get her back," explains Bouchareb in a director's statement released by Elle Driver.
Rising French actress Pauline Burlet, who played young Edith Piaf in Olivier Dahan's La Vie en Rose and more recently the troubled teenage daughter in Asghar Farhadi's The Past, plays the missing daughter.
It is not the first time Bouchareb has explored the impact of extremism on individuals. His 2009 film London River starred Brenda Blethyn and Sotigui Kouyaté as a British mother and Malian father who are brought together as they search for their children in the aftermath of the July 7 bombings in London.
Bouchareb — who researched the film by speaking to several parents who had lost their children to ISIS - co-wrote the screenplay with long-time collaborators Zoé Galeron and Olivier Lorelle – co-writer on the Oscar-nominated Days of Glory - and Algerian writer Yasmina Khadera, whose novel The Attack was adapted to the big screen by Lebanese Ziad Doueiri.
The film is in post-production and Elle Driver has the script at AFM.
Cleven's Angel revolves around a protagonist who is present throughout the film but is never actually seen on screen.
Based on an original idea by Thomas Gunzig, co-writer of Jaco Van Dormael's Belgian foreign language Oscar submission The Brand New Testament, the film revolves around the romance between an invisible boy and a young blind girl Madeleine. He and Cleven co-wrote the screenplay.
Big screen debutant Fleur Geffrier will play Madeleine opposite Elina Lowensohn as Angel's mother.
Long-time Cleven collaborator Van Dormael is producing the film under through his company Terra Incognita alongside Olivier Rausin and Daniel Marquet, who also produced The Brand New Testament.
Cleven plans to evoke Angel's presence in the film using mechanical and optical techniques dating back to the time of cinema pioneer Georges Méliès. A soundscape, created by sound artist and electronic music composer Dimitri Coppe and composer George Van Dam, combining voices and sounds — such as heartbeats, blood coursing through veins and breathing and a grumbling stomach — with a minimalist soundtrack will also bring the invisible character of Angel to life.
If I Were A Boy is Dana's second feature after her ensemble 2014 work French Women (Sous Les Jupes des Filles) in which she co-starred alongside Isabelle Adjani, Laetitia Casta, Vanessa Paradis, Sylvie Testud and Alice Taglioni.
Here she plays a woman who wakes up with a penis. Popular French actor Christian Clavier has also signed for the film, produced by Marc Missonnier and Oliver Delbosc at Fidélité Films. The project is in pre-production.
Paris-based Elle Driver will also kick-off sales on Grau's 7:19 am set against the backdrop of the devastating earthquake which hit Mexico City in the early hours of September 19, 1985, killing thousands and leaving many more injured and homeless.
Mexico City native Demian Bichir will play a government official trapped under nine stories of concrete and twisted metal with a night watchman (Hector Bonilla) from the other side of the social divide.
As they wait for help, the two men's fear turns to social animosity and then unity.
Grau, who broke through internationally with the 2010 cannibal horror picture We Are What We Are, co-wrote the screenplay with Mexican novelist Alberto Chimal.
He recounts how he was a 12-year-boy, riding through Mexico City with his father and brother, when the earthquake struck.
"The earthquake of 1985 showed us how vulnerable we were as a country, but also taught us that we can be united as fellow citizens," he says in his notes for the film.
"I will try to tell my experience through the story of two trapped men, the experience of thousands of people and the experience of Mexico on September 19, 1985, when I was just 12 years old."
The Paris-based company will also be continuing sales on Mélanie Laurent and Cyril Dion's documentary Tomorrow made in response to the upcoming Paris Climate Conference, which kicks-off in the French capital at the end of November.
Laurent and Dion visited 10 countries across the globe in a bid to understand the causes of global warming as well as potential strategies to prevent it.
The film will be released by Mars Distribution in France on December, at the same time as the conference.
Other recently completed films on the Elle Driver slate include Audrey Estrougo's Jailbirds, starring Sophie Marceau as a woman to trapped in prison after she swaps places with her lover.