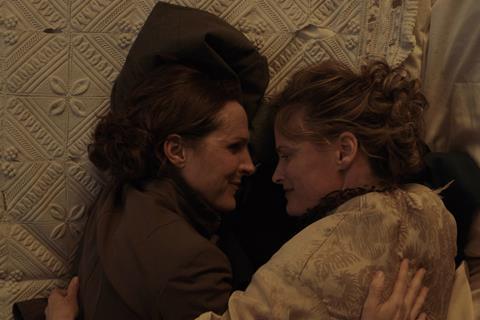 Greenwich Entertainment has acquired US rights to the Emily Dickinson drama and SXSW selection Wild Nights With Emily starring Molly Shannon.
Madeleine Olnek wrote and directed the feature about the life and love of the celebrated 19th century American poet and depicts her lesser-known vivaciousness and irreverence, including her lifelong romance with another woman.
The filmmakers secured permission from Harvard University Press to use Dickisnon's own words in the film, and received research support from the Guggenheim foundation.
"Madeleine's witty, madcap yet poignant and absolutely necessary version of Emily's life is an Emily we've never seen before, but one that has been hiding in plain sight all along," said Ed Arentz of Greenwich Entertainment. "Wild Nights With Emily will delight the poet's legion of fans, satisfy serious scholars and addresses our particular moment in a very telling way."
"Picking a distribution company is kind of like going on The Bachelor," said Olnek. "You talk through ideas with people and hope to find a common ground. When Ed Arentz from Greenwich Entertainment referred to some obscure drafts of Emily Dickinson letters, and commented on how my film 'solved one of the greatest literary mysteries of all time,' I knew he was 'The One.'"
Wild Nights With Emily co-stars Amy Seimetz, Susan Ziegler, and Brett Gelman. Producers are Casper Andreas, Max Rifkind-Barron, Anna Margarita Albelo, and Olnek.
Cinetic Media's Eric Sloss negotiated the deal on behalf of the filmmaker, with Greenwich's Arentz.
Greenwich Entertainment launched in 2017 and has released the acclaimed documentary Free Solo, as well as Isabel Coixet's The Bookshop, Sasha Waters Freyer's Garry Winogrand: All Things are Photographable, Alison Chernick's Itzhak, Jennifer Peedom's Mountain and Lorna Tucker's Westwood: Punk, Icon, Activist. Upcoming releases include Claus Rafle's The Invisibles, Billy Corben's Screwball, and Jan Zabeil's Three Peaks.