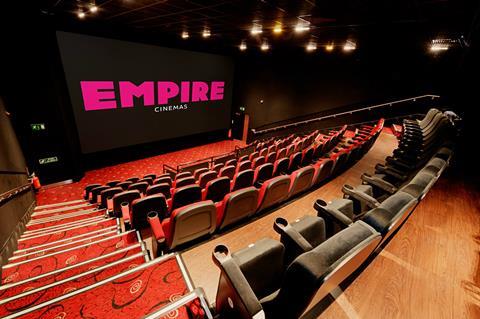 Empire Cinemas is to close its multiplexes throughout the UK following government advice over the coronavirus pandemic.
The independent cinema operator announced it will close all 14 sites, comprising 129 screens, from the end of today (March 18).
A statement issued by the company said: "As a result of the immediate and imminent local threat to staff and customers presented by the coronavirus pandemic and following the government guidance on social contact announcement by the Prime Minister… we will be temporarily closing our cinemas and suspending all screenings and events."
Empire is one of the final exhibitors to announce closure after advice issued on Monday by UK prime minister Boris Johnson to avoid public venues such as theatres and pubs, while stopping short of forcing places to close, as coronavirus spreads.
Cinema chains including Odeon, Cineworld, Picturehouse, Vue, Curzon and Everyman announced yesterday that they would be shuttering operations during this period of "social distancing".
It led UK Cinema Association CEO Phil Clapp to release a statement, highlighting that his organisation would pivot to help who work in the exhibition sector.
"The priority now is to ensure that the thousands who work in the sector, many of them young people, are helped during what will be an exceptionally challenging period for them, and that cinema venues across the country are supported to overcome what for many will represent an unprecedented challenge to their existence," said Clapp.