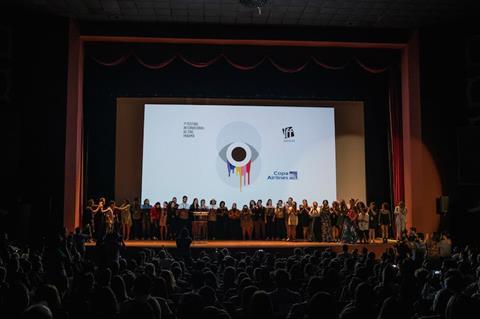 Top brass at the seventh IFF Panama handed out awards on Wednesday night (April 11) as the Latino event drew to a close with a screening of SXSW audience winner Ruben Blades Is Not My Name.
Fabien Pisani's En La Caliente (Cuba) won first prize in the Works in Progress (Primera Mirada) section, followed by Días de luz with second prize.
The latter hails from Costa Rica, Panama, Nicaragua, Honduras, El Salvador, and Guatemala and was directed by Mauro Borges (Costa Rica), Enrique Pérez (Panama), Gloria Carrión (Nicaragua), Enrique Medrano (Honduras), Julio López (El Salvador) and Sergio Ramírez (Guatemala).
The People's Choice Revista K Award for best documentary film went to A Calypso Night by Fernando Muñoz, while the People's Choice Mastercard Award for best film from Central America and the Caribbean was presented to Sergio & Sergei by Ernesto Daranas Serrano.
The People's Choice (Premio Copa) Copa Airlines Award for best fiction film from Iberoamerica was awarded to Killing Jesus by Laura Mora.
IFF Panama opened on Aril 5 with best foreign language Oscar winner A Fantastic Woman and ran through April 11. For further details visit the official website.