Stars including Harrison Ford, who said film could provide "emotional exercise", made the announcement at Westminster Academy.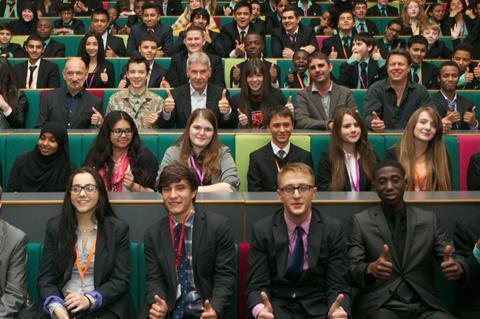 The National Youth Film Festival is to screen an exclusive preview of sci-fi blockbuster Ender's Game as part of the three-week festival (Oct 21 - Nov 8), which aims to encourage young people across the UK to engage with film.
It will screen at London's Odeon West End on Oct 24
The announcement was made by the films' stars Harrison Ford, Sir Ben Kingsley, Asa Butterfield, Hailee Steinfeld and director Gavin Hood at a FilmClub Q&A with pupils at Westminster Academy.
Speaking about the role film can play in the development of young people, Ford said: "I tend to think of film or story as an emotional opportunity to generate some emotional exercise.
"Through an emotional understanding of what's going on, I do think that perhaps the single most important talent in storytelling, and perhaps acting, is this thing that we call empathy.
"That, 'getting outside of your head', and understanding emotionally who other people feel, is key to being able to deliver the goods, as an actor, a storyteller, so that's where the fun of it lies and where the utility lies."
Kingsley added: "Cinema has been with us for a very, very, very long time. It's here to stay. It's a celebration, it's a mirror of our lives."
Ender's Game is based on the best-selling novel by Orson Scott Card. Set 70 years after an alien war, a gifted child is sent to an advanced military school in space to prepare for a future invasion.
The National Youth Film Festival is a new event designed to help five-to 19-year-olds engage with a wide variety of films, learn about filmmaking and the industry, and take part in workshops and Q&As with film industry professionals.
It is supported by the BFI, Cinema First, RealD 3D, the TES and First News.
NYFF forms part of a wave of education activity through Film Nation UK, the new organisation formed earlier this year by FilmClub and First Light.
Film Nation UK has been awarded national lottery funding of £26 million over four years by the BFI - the largest ever investment in film education in the UK.