Breaking Bad's Bryan Cranston to star as the blacklisted screenwriter; Helen Mirren to play legendary gossip columnist Hedda Hopper.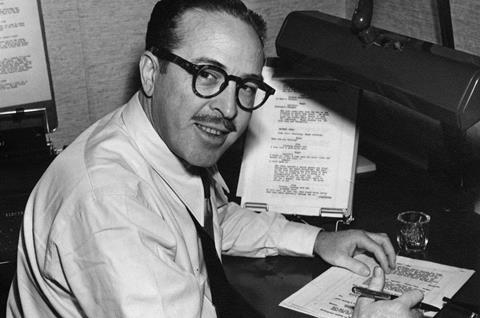 Entertainment One has prevailed in the hotly contested bid to secure international rights to buzzed-about biopic Trumbo, about blacklisted screenwriter Dalton Trumbo.
Breaking Bad star Bryan Cranston takes the leading role and Helen Mirren has signed on to play his nemesis, Hedda Hopper.
eOne will distribute in the UK, Canada and Australia/New Zealand.
Based on a true story, charismatic screenwriter Dalton Trumbo was the highest paid screenwriter in the world in the 1930s. However, as Cold War paranoia took hold of the US, he was dragged in front of the House Committee on Un-American Activities (HUAC), and, when he refused to co-operate, was ultimately sent to prison.
Remaining rebellious after his release, Trumbo became Hollywood's most prolific blacklisted writer, secretly writing such classics as Roman Holiday and winning two Academy Awards under an alias. Helping end the blacklist once and for all, he eventually cleared his name and was publicly given credit for Exodus (screenplay) and Spartacus (screenwriter).
Hopper starred in more than 120 movies, beginning in the silent era of Hollywood, before successfully turning her hand to gossip writing. She strongly supported the HUAC hearings.
The feature marks the debut screenplay of television writer John McNamara. Jay Roach, best known for the Austin Powers and Meet the Parents franchises, will direct the film. Michael London, Janice Williams, Nimitt Mankad, Shivani Rawat, Monica Levinson, Kevin Brown and John McNamara will serve as producers alongside Kelly Mullen who will serves as executive producer.
Shoot is due to get underway on September 15, 2014 in the US with additional casting announcements expected shortly.
Benedict Carver, svp at Filmed Entertainment, brought the project to eOne. Lara Thompson, evp at Filmed Entertainment, negotiated the deal on behalf of eOne with Nimitt Mankad for Shiv Hans, Stephen Dembitzer of Dembitzer and Dembitzer and Alexis Garcia for WME.
"We are absolutely thrilled to be in business with Shiv Hans and Groundswell and to finally score Trumbo after much stiff competition," said Harold van Lier, President, eOne Films International. "We have been obsessed with this project for a long time for all its exceptional qualities and the incredible team involved. It is a unique story told in a most entertaining way and we look forward to sharing that passion shortly with our fellow distributors on the Croisette."
eOne last week announced the acquisition of project Eye in the Sky, set to star Colin Firth.