EUROPEAN FILM FORUM: Producers also talk about "turning talent into industry" and learning from disruption in other sectors.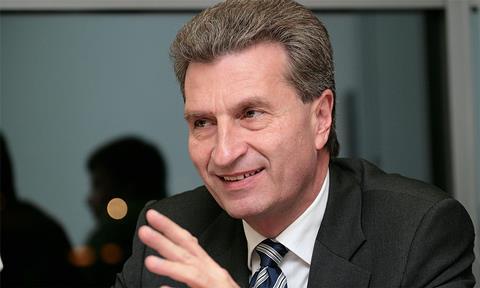 As the European Film Forum kicked off yesterday in Brussels, European Commissioner for Digital Economy and Society Gunther H Oettinger continued to reassure the film industry that the EU's plans for a digital single market won't spell disaster for the way films are financed and distributed today.
"We have a promising proposal for portability, without undermining the business model of territoriality," he told the high-level audience at Brussels' BOZAR, as the largest-ever European Film Forum was held to coincide with the 25th anniversary of the EU's MEDIA programme.
Oettinger said he wants "to continue the dialogue" with industry experts especially as it relates to the EU's digital single market plans, such as currently debated plans on the satcab directive about portability of catch-up TV.
"With all the interest we have in the digital single market …we still want to make sure your business model is still viable, that there is still national film promotion, national film funding, marketing on a channel in some members states but not necessarily in all member states. We take into account the principle of territoriality, which is the very backbone of your business model."
"The film industry is an economic asset and we shouldn't underestimate it," Oettinger added. It should be "on equal footing" with industries like tourism or automobiles, he said.
Evolution
He recognized that there may not be such a thing as a cohesive, one-size-fits-all European film industry but that there are shared values in European art and culture. "Film is our European business card, also at the global level," he said. "Europe is more than a single market its also a community of shared values."
"All this goes beyond the revenue turnover figures or the number of visitors in our cinemas. Promoting films is also promotion of the basics of our existence in Europe," he continued.
But Oettinger reminded the audience of industry experts how much technology has already changed. "Smartphones didn't exist 10 years ago … and now look at how such a small device has changed so many things so drastically."
He added: "We have to focus not only on content and quality and support for films but we also have to monitor market developments…We have to think about how moving images will be consumed in 5-10 years time, and how can we make sure your business model is still viable?"
As the media landscape shifts, Oettinger said, "We still insist that quality of content matters more. But the audience has to come first," he said. "There are changes in viewing habits, there are new interests and we also have to deal with international competition," he added.
The industry will now be keen to hear from the EC's VP for the Digital Single Market, Andrus Ansip, as the European Film Forum continues on Friday.
New channels, new talent
Other topics addressed at today's Forum include format innovations, women working in the film industry, and how festivals and markets are evolving.
Much of the day was spent talking about new platforms and technologies, and the challenges and opportunities they present. But at least one speaker was banging the drum for traditional productions. Peter Aalbaek Jensen, co-founder of Danish production powerhouse Zentropa, said he was "getting more and more back to a regular two-hour feature film…I focus on the two-hour format made for cinema, that I know has at least worked in cinemas for the last 100 years…and is something that I'm sure will be worth something in 100 years. I'm trying to be smart by being traditional."
Spanish producer and educator Ignacio Pérez Dolset of Illion Animation Studios and U-tad, said one of Europe's greatest strengths is its talents, but that they should be encouraged to work here without running to bigger projects outside of Europe, such as in the US. "Our big challenge is turning talent into industry," he said. Looking at the future of the MEDIA programme he advised, "I would invest in talent not buildings not infrastructure."
And supporting more diverse talent should be an increasing priority. Speaking on the "women on the move" panel, Sixteen Films' Rebecca O'Brien, the long-time producer of Ken Loach, said that she was encouraged to see more women producing but that more women needed to be greenlit as directors.
She noted that richer content came from diverse voices, pointing out in one example that she finds sex scenes directed by Andrea Arnold to be "sexier than ones directed by a man."
O'Brien added: "All sorts of diversity is important. It's very important to have black and Asian minorities [working in film]. If we push in that area, we'll get more women as well, if a society becomes more aware of differences and the value of difference then women come with that…It's about encouraging people. I'm not sure I like the idea of quotas, it needs to be organic."
Matthijs Wouter Knol, director of Berlin's European Film Market, also encouraged the film industry to listen to other industries that have been evolving and innovating in more radical ways than the film business.
"We need to open the windows," he said, in order to learn how entrepreneurs in other industries are connecting to new audiences. That's one reason he has invited non-film-related start-up businesses to attend the EFM and interact with traditional film industry attendees.
Ivan Kohn, head of drama at Norwegian broadcaster NRK, had a similar thought about virtual reality potential, which isn't something that can be developed by film companies in a vacuum, especially in smaller markets.
"We need to open up and share and work with different professionals. If we try to make it by ourselves, it won't happen. We need to open up and share more."