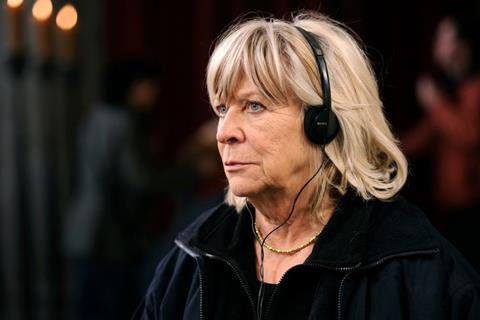 Eurimages have announced co-production funding for a number of new projects, at a total of over €5.5m.
The Board of Management of the Council of Europe's Eurimages Fund agreed to fund 22 fiction, seven documentaries and one animation.
The biggest grants from the total €5,598,535 were given to France's Girls of The Sun by Eva Husson (€500,000), Irish project Sweetness In The Belly by Zeresenay Mehari (€480,000) and Keep Going by Joachim Lafosse from Belgium (€460,000).
Also receiving funding are The Extraordinary Voyage Of Marona from Romania's Anca Damian (€432,000) and The Hummingbird Project from Canada's Kim Nguyen (€360,000).
35% of directors given grants were female (€1,990,768), after 32% of the projects analysed by the Board were female-helmed.
Some notable directors included in the selections include Germany's Margarethe von Trotta (for her Bergman doc Ingmar Bergman - Legacy Of A Defining Genius) and Russia's Yuri Bykov (The Factory).
The Board have also agreed to provide marketing and publicity costs for its Distribution Support Programme, supporting 33 requests for payment submitted by 16 distributors at a total of €309,832.
The full list of grants is as follows:
The Extraordinary Voyage of Marona - Anca Damian (Romania) – €432,000 (Romania, France, Belgium) Animation film
Frem - Viera Cakányová (Slovak Republic) - €53 000 (Czech Republic, Slovak Republic) Documentary
Coupe Confused - Mischa Kamp (Netherlands) - €200 000 (Netherlands, Germany)
The Unfinished Portrait of Clara Bellini - Namik Ajazi (Albania) - €71 268 (Albania, Italy)
Girls Of The sun - Eva Husson (France) - €500 000 (France, Belgium, Georgia)
Baltic New Wave - Audrius Stonys (Lithuania), Kristine Briede (Latvia) - €70 000 (Lavia, Lithuania, Estonia) Documentary
Ingmar Bergman - Legacy of a Defining Genius - Margarethe Von Trotta (Germany), Felix Moeller (Germany) - €86 000 Documentary (Germany, France)
Sisters - Emin Alper (Turkey) - €180 000 (Turkey, Germany, Netherlands, Greece)
The End Of Emma Peeters (as we know her) - Nicole Palo (Belgium) - €71 268 (Beligum, Canada)
God Exists, Her Name Is Petrunija - Teona Strugar Mitevska ("The Former Yugoslav Republic of Macedonia") - €224 000 ("The Former Yugoslav Republic of Macedonia", Belgium, Croatia)
Father - Srdan Golubovic (Serbia) - €240 000 (Serbia, France, Germany, Croatia, Slovenia)
Sweetness in the Belly - Zeresenay Mehari (Africa) - €480 000 (Ireland, Canada)
Fugue - Artemio Benki (France – Czech Republic) – €100 000 (Czech Republic, France, Argentina, Austria) Documentary
43 – Dito Tsintsadze (Georgia) – €120 000 (Russian Federation, Georgia)
Core of the world - Natalia Meschaninova (Russian Federation) - €130 000 (Russian Federation, Lithuania)
Negative Numbers - Uta Béria (Georgia) - €86 000 (Georgia, France, Italy)
The Factory - Yuri Bykov (Russian Federation) - €200 000 (Russian Federation, France, Armenia)
Digger - Georgis Grigorakis (Greece) - €100 000 (Greece, France)
Tailor - Sonia Liza Kenterman (Greece) - €165 000 (Greece, Germany, Belgium)
Jumpman - Ivan Tverdovsky (Russian Federation) - €200 000 (Russian Federation, Ireland, Lithuania, France)
Open Door - Florenc Papas (Albania) - €45 000 (Albania, "The Former Yugoslav Republic of Macedonia")
Keep Going - Joachim Lafosse (Belgium) - €460 000 (Belgium, France)
Outside - Michal Hogenauer (Czech Republic) - €120 000 (Czech Republic, Latvia, Netherlands)
Epicentro - Hubert Sauper (France) - €190 000 (Austria, France) Documentary
Photograph-Women - Ester Sparatore (Italy) - €100 000 (France, Belgium, Italy) Documentary
The Hummingbird Project - Kim Nguyen (Canada) - €360 000 (Canada, Belgium)
In the Beat of a Heart - Tudor Giurgiu (Romania) - €250 000 (Romania, Spain, Czech Republic)
Exemplary Behaviour - Audrius Mickevicius (Lithuania) - €50 000 (Lithuania, Bulgaria) Documentary
What a Country! - Vinko Bresan (Croatia) - €240 000 (Croatia, Serbia, Poland)
The Father - Petar Valchanov (Bulgaria), Kristina Grozeva (Bulgaria) - €75 000 (Bulgaria, Greece)
Distribution suppprt programme
SWITZERLAND
Trigon-Film:
Worlds Apart - Christopher Papakaliatis (Greece) - €10 000
Centaur - Aktan Arym Kubat (Kyrgyzstan) - €10 000
Frenetic Films:
Elementary - Hélène Angel (France) - €10 000
Gangsterdam - Romain Lévy (France) - €10 000
Our Farmer - Robert Schabus (Austria) - €10 000 Documentary
My Blind Date With Life - Marc Rothemund (Germany) - €10 000
Filmcoopi Zürich:
The Double Lover - François Ozon (France) - €10 000
Bye-Bye Germany - Sam Garbarski (Belgium) * (Germany, Luxembourg, Belgium) - €11,000
Xenix Filmdistribution:
The Bloom of Yesterday - Chris Kraus (Germany) * (Germany, Austria) - €11 000
Dancing Beethoven - Arantxa Aguirre (Spain) - €10 000
Agora Films:
Mr & Mrs Adelman - Nicolas Bedos (France) - €10 000
Impuls Pictures:
Overdrive - Antonio Negret (Colombia) - €10 000
Step by Step - Mehdi Idir (France), Grand Corps Malade (France) - €10 000
Wedding Unplanned, Reem Kherici (France) €10 000
Cinerworx:
Tour de France - Rachid Djaidani (France) - €10 000
RUSSIAN FEDERATION:
Luxor Distribution:
Radin! - Fred Cavayé (France) - €10 000
Exponenta Plus:
Orbiter 9 - Hatem Khraiche Ruiz-Zorilla (Spain) - €10 000
Colossal - Nacho Vigalondo (Spain) - €10 000
Volgafilm:
Leap! - Éric Summer (France) Éric Warin (France) - €10 000
Full Speed - Nicolas Benamou (France) - €10 000
Capella Film:
Voyage of Time - Terrence Malick (USA) - €9 761 Documentary
Dalida - Lisa Azuelos (France) - €9 307
Cinema Prestige :
The Secret Scripture - Jim Sheridan (Ireland) - €9 089
The Red Turtle - Michael Dudok de Wit (The Netherlands) * Animation film (France, Belgium) - €10 266
The Ideal - Frédéric Beigbeder (France) - €10 000
Rock & Roll - Guillaume Canet (France) - €10 000
TURKEY
Mars Production:
The Odyssey - Jérôme Salle (France) - €2 398
Snowden - Oliver Stone (USA) - €9 655
Filma:
Dalida - Lisa Azuelos (France) - €2 991
Fabula Medya:
Things to Come - Mia Hansen-Løve (France) - €4 530
Yeni Bir Film:
The Rabbit School: Guardians of the Golden Egg - Ute von Münchow-Pohl (Germany) - €10 000 Animation film
The Red Turtle - Michael Dudok de Wit (The Netherlands) * Animation film (France, Belgium) - €10 137
The Young Karl Marx - Raoul Peck (France)-€9 698