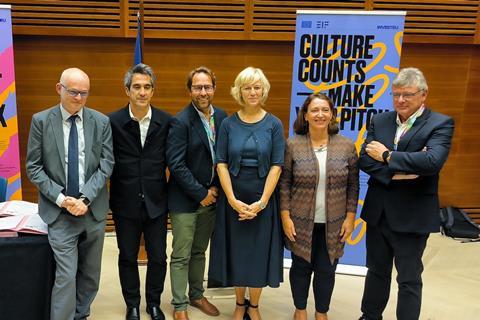 The European Commission (EC) and European Investment Fund (EIF)'s MediaInvest equity tool has unveiled its first equity investment of up to €25m in French fund Logical Content Ventures (LCV).
It has also announced further agreements with two Spanish companies and one from Luxembourg under the EIF's InvestEU Cultural and Creative Sectors (CCS) Guarantee.
The four agreements are worth a total $62.5m and were announced at the San Sebastian film festival on Sunday.
Launched at the Cannes Film Festival in 2022 and managed by the EC and EIF, MediaInvest aims to raise up to €400m in equity investment between 2022 and 2027, with a view to making the audiovisual sector more competitive at a global level.
LCV is managed by French production and investment company Logical Pictures. The outfit signed a three-year co-production and co-financing deal with French studio Pathé earlier this year, and has invested in upcoming titles such as Alexandra Aja's Night Of The Hunted and Ridley Scott's Berlin Nobody.
Additionally, via the InvestEU CCS Guarantee scheme, the EIF has also signed with MDDG, a new Luxembourg-based fund, acting as a general partner of its investment vehicles The Archers and The Archers Production.
The Archers is a joint venture between France's Le Collectif 64 and Bac Films.
MDDG is specialised in investments in the audiovisual sector, mainly financing the co-production of films and TV series. The EIF €8.25 million ($8.75 million) guarantee line aims to leverage a portfolio of around €50 million ($53 million) in financing.
The Archers is also financing against international, being "a fund open for European independent producers and European sales company to send a project that needs financing," said David Grumbach, CEO of Bac Films, at the San Sebastian signature ceremony with the EIF on Sunday.
"We will assess projects' international potential thanks to sales estimates, script reviews like the usual job of a sales company, of a local distributor," he added, saying the fund is looking for "projects with a clear international vision, a local project going global."
Spain's Compania Espanola de Reafianzamiento (Cersa), a state-backed institution which targets cultural and creative sectors and underwrites other bank loan guarantee institutions, received a €20m guarantee line. Also based in Spain, private-sector mutual guarantee institution Crea will receive a €15m guarantee line.
Making Europe competitive
Renata Nicolai, deputy director of DG Connect, the directorate-general for communications networks, content and technology of the European Commission, introduced the signature event and underlined that the agreements are done to benefit Europe's audiovisual and creative industries.
"Traditionally, banks and other lending institutions perceived the film industry or the audiovisual sector as being high risk," Nicolai said. "Private investments remain relatively limited hence restricting the opportunities to grow and to remain competitive in this more global sector. That's why we needed to react in Europe and we have done so."
Thierry Breton, commisisoner for the internal market, added in a statement: "I am pleased to see that these agreements have been reached, as they will play a key role in helping secure European audiovisual competitiveness at a global level and boost creative resources in this sector. With this, we are also starting to reap the benefits on the MediaInvest instrument which I launched in Cannes last year. I am looking forward to many more agreements and to seeing this tool continue to help EU creative sectors flourish."
These agreements aim to generate around €500m worth of new financing for audiovisual and creative companies and projects.