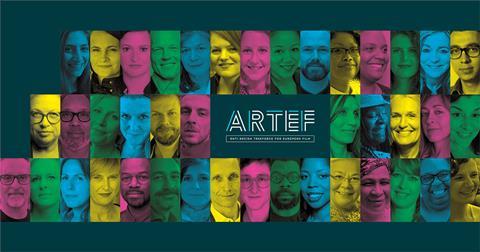 The Anti-Racism Task Force for European Film (ARTEF), which formed quietly in summer 2020, is today (July 1) going public with its work and asking for the wider European industry to engage with the group and its activities. The group will have its first public presentation as part of the Collectif 50/50 session on July 9 in Cannes.
The task force was the brainchild of Matthijs Wouter Knol, the newly appointed director of the European Film Academy, who quickly aligned with key colleagues who were also passionate about the topic.
Wouter Knol told Screen: "For those who have organised ARTEF, the need for this change was not an overnight idea. We have all been sitting in discomfort, probably not knowing how to connect the dots, and how to connect the moment we were living in with Europe. I knew we needed to speak about the infrastructures in the European film industry and how they uphold systemic racism and are dominated by white privilege and a white-western centric gaze. We knew there was not enough effort done to radically change this and that time was up. We want to think the task force will push and support the change needed."
The co-founders and current board of directors are Helene Granqvist (producer Nordic Film Factory and president WIFTI); Paula Alvarez Vaccaro (producer at Pinball London and European Producers Club VP); and Marion Schmidt (co-director of Documentary Association of Europe). They also join the steering committee alongside Véronique N. Doumbé, Laurence Lascary and Regina Mosch.
Founding partner institutions are Bertha Foundation, British Film Institute, FOCAL, HessenFilm, MOIN Film Fund Hamburg Schleswig-Holstein, International Sámi Film Institute, Film Fund Luxemburg, Netherlands Film Fund, Norwegian Film Institute, Swedish Film Institute.
Participating organisations include ACE, EAVE, EWA, and WIFTI as well as production companies Magic Hour Films and Pinball London.
Vaccaro added: "For many of us this created almost a permission to step forward, to realise we haven't done enough, not near enough. We have to thank the global surge of the Black Lives Matter movement and also, in the film industry, many filmmakers who have been doing the work and leading the way. 2020 was a year of mourning and realisation for many and ARTEF used that energy to propel this forward."
Lascary, a French producer and writer, agreed the time was right for such a project: "Europe is resistant and slow to take these topics on board and we were aware this needs to change."
The group, which started with an initial online meeting in July 2020, has already undertaken an awareness training programme led by Dr Emilia Roig, founder of the Centre for Intersectional Justice. These workshops were held from November 2020 to May 2021, online, with an average of 40 participants in each session.
Vaccaro said: "The training has created awareness of the reality of our existing infrastructures, and awareness that if we do nothing, nothing will change. It was a challenging process, and also for some of course a very slow one. Changing the structures of our industry will take longer than we want, but again: we are understanding with those who hold power at various levels that if we don't do anything, nothing will change. We also know many funders have been inspired by this first round of training and know some concrete actions are coming. Our intention is to expand beyond training and enter policy, research, and other areas that can show both where we are and where we need to go."
The aims of ARTEF include "raising awareness, by offering education and insights, by suggesting revisions to regulations and practices, as well as to weather opposition from the industry — especially from those who habitually benefit from institutionalised racism."
Next steps
The task force plans to reach out to more institutions including film festivals, film commissioners, unions and filmmaking collectives, asking them to join ARTEF, and commit to training, ring-fencing of resources, and to turn their awareness into actions.
Many of the initial participants have been white, and Wouter Knol noted, "As a taskforce ARTEF started with training and speaking out against a white-centered system above all. And it is indeed mainly those participants who will be needed to do the work."
Lascary added: "We hope that the presence of ARTEF in the European film industry will help to make a difference, and will set things in motion. The visibility will help. Now anyone can join us."
The group added: "anyone who has been or is affected by racism in the European film industry is invited to come forward and engage with ARTEF to help us build a meaningful task force together."