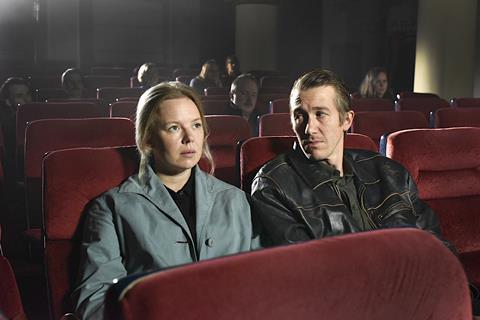 Aki Kaurismäki's Cannes jury prize winner Fallen Leaves and Nuri Bilge Ceylan's About Dry Grasses starring Cannes best actress winner Merve Dizdar – both Oscar submissions this year – are among the international line-up at the upcoming 59th Chicago International Film Festival (October 11–22).
Alice Rohrwacher's La Chimera and Kleber Mendonça Filho's Pictures Of Ghosts are two other Cannes selections to feature in the roster, while Ryusuke Hamaguchi's Evil Does Not Exist and Lina Soualem's Bye Bye Tiberias both launched in Venice.
Announcing on Thursday (September 14) the selections vying for the Gold Hugo award in the International Feature, International Documentary and New Directors competitive sections, top brass at North America's longest-running competitive film festival unveiled 16 North American premieres and 10 US premieres.
Several returning competition filmmakers have previously won awards at the festival, including Hamaguchi, Kaurismäki, Erik Gandini, Tatiana Huezo, and Rohrwacher.
Honourees Close (2022), Drive My Car (2021), and The Worst Person In The World (2021) were all nominated for best international feature film at the Academy Awards.
The New Directors Competition roster includes North American premieres of Amr Gamal's Berlin selection The Burdened, Lucy Kerr's Locarno entry Family Portrait, and Nora El Hourch's TIFF world premiere Sisterhood (HLM Pussy).
As previously announced, TIFF world premiere Minhal Baig's We Grown Now and Jeff Nichols' The Bikeriders bookend the festival. The full slate will be announced on September 18.
International Feature Competition
About Dry Grasses (Tur-Fr-Ger-Swe)
Dir. Nuri Bilge Ceylan
All Dirt Roads Taste Of Salt (USA)
Dir. Raven Jackson
Black Box (Ger)
Dir. Asli Özge
North American premiere
La Chimera (It-Fr-Switz)
Dir. Alice Rohrwacher
The Delinquents (Arg)
Dir. Rodrigo Moreno
Do Not Expect Too Much From The End Of The World (Rom)
Dir. Radu Jude
Evil Does Not Exist (Jap)
Dir. Ryusuke Hamaguchi
Explanation For Everything (Hun)
Dir. Gábor Reisz
North American premiere
Fallen Leaves (Fin)
Dir. Aki Kaurismäki
A Happy Day (Nor)
Dir. Hisham Zaman
US premiere
Holly (Bel-Neth-Lux-Fr)
Dir. Fien Troch
North American premiere
Only The River Flows (Chi)
Dir. Wei Shujun
US premiere
Paradise Is Burning (Swe)
Dir. Mika Gustafson
North American premiere
The Theory Of Everything (Ger-Aus)
Dir. Timm Kröger
North American premiere
Tótem (Mex-Den-Fr)
Dir. Lila Avilés
New Directors Competition
Banel & Adama (Fr-Sen-Mal)
Dir. Ramata-Toulaye SY
US premiere
The Battle (Bra)
Dir. Vera Egito
International premiere
The Bride (Rwa)
Dir. Myriam U. Birara
US premiere
The Burdened (Yem-Sud-Saud)
Dir. Amr Gamal
North American premiere
Family Portrait (USA)
Dir. Lucy Kerr
North American premiere
Firedream (Mex)
Dir. José Pablo Escamilla
North American premiere
Foremost By Night (Sp)
Dir. Víctor Iriarte
North American premiere
Goodbye Julia (Sud-Egy-Ger-Fr-Saud-Swe)
Dir. Mohamed Kordofani
US premiere
The Hypnosis (Swe)
Dir. Ernst De Geer
North American premiere
Lost Country (Serb)
Dir. Vladimir Perišić
North American premiere
Sisterhood (HLM Pussy, Fr)
Dir. Nora El Hourch
US premiere
Solitude (Ice)
Dir. Ninna Palmadóttir
US premiere
Sweet Dreams (Neth)
Dir. Ena Sendijarević
US premiere
Through The Night (Bel-Fr-Can)
Dir. Delphine Gerard
North American premiere
International Documentary Competition
After Work (Swe-It-Nor)
Dir. Erik Gandini
North American premiere
Alien Island (Chile)
Dir. Cristóbal Valenzuela
North American premiere
Because We Have Each Other (Aust)
Dir. Sari Braithwaite
North American premiere
Bye Bye Tiberias (Fr-Bel-Qat-Pal)
Dir. Lina Soualem
US premiere
The Echo (Mex)
Dir. Tatiana Huezo
Four Daughters (Fr-Tun)
Dir. Kaouther Ben Hania
North American premiere
In The Rearview (Pol-Fr-Ukr)
Dir. Maciek Hamela
US premiere
Pictures Of Ghosts (Bra)
Dir. Kleber Mendonça Filho.