Revenge horror Big Bad Wolves has won the best film prize at the Fantasia International Film Festival, which has revealed record attendance figures for its 17th edition.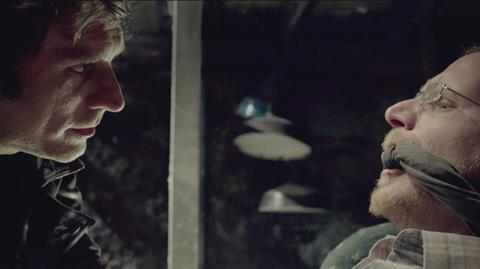 Aharon Keshales and Navot Papushado's Big Bad Wolves picked up the Cheval Noir Award for Best Film.
A statement from the jury said: "With elements of horror, crime thriller, revenge drama, and wicked black comedy, Big Bad Wolves takes genre-bending to bold new levels. This sense of originality, along with its subversive political subtext, assured visual style, and impeccable ensemble cast, is what separates the film from the rest of the pack."
Directing duo Keshales and Papushado also picked up the award for best screenplay. The UCM-produced film tells the story of a series of brutal murders, and how they impact on the lives of a vigilante police detective, the main suspect and the father of a victim.
Metrodome Distribution previously secured all UK rights from 6 Sales while Magnet Releasing acquired all North American rights from XYZ Films.
Other awards went to Hou Chi-Jan, who won Best Director for When a Wolf Falls in Love With a Sheep, while Cho Jae-hyun won best actor for his role in The Weight, and Nathalie Boutefeu won best actress for her performance in Les Gouffres.
Special mentions were given to Lorenzo Bianchini's Across the River and Antoine Barraud's Les Gouffres.
As previously announced, the New Flesh Award for best first feature went to EL Katz's Cheap Thrills. A full list of audience awards is listed below.
Record figures
Fantasia closed with the Canadian premiere of The World's End, presented by director Edgar Wright and actor Nick Frost.
Following the screening, organisers reported record attendance numbers of more than 125,000 festival-goers for its 17th edition, surpassing last year's record of 109,000 (a 15% increase).
Over three weeks (July 18 - Aug 7), it presented more than 130 features from 31 countries and more than 220 shorts.
Fantasia opened with the North American premiere of Takashi Miike's Shield of Straw.
A lifetime achievement award was given to Polish filmmaker Andrzej Zulawski.
World premieres included Don Mancini's Curse of Chucky, Eddie Mulins' Doomsdays and Cody Calahan's Antisocial.
Industry Rendez-Vous
The second edition of the Fantasia Industry Rendez-Vous comprised four days of meetings, pitch sessions, conferences and networking cocktails that organisers said were "all at full capacity".
The Frontières International Co-Production Market presented 24 film projects from Canada, the US, many European countries, Mexico and New Zealand.
Attendance at the Rendez-Vous was up significantly from last year, with 280 participants in 2013 (90 from the US, 40 from Europe, 75 from Quebec, and 60 from the rest of Canada). More than 600 meetings took place around the Frontières projects and other business interests.
Audience Awards
Best Asian Feature
Gold HK/FORBIDDEN SUPER HERO by Yuichi Fukuda
Silver LESSON OF THE EVIL by Takashi Miike
Bronze HOW TO USE GUYS WITH SECRET TIPS by Lee Wonsuk
Best International Feature
Gold CURSE OF CHUCKY by Don Mancini
Silver OXV: THE MANUAL by Darren Paul Fisher
Bronze BROKEN CIRCLE BREAKDOWN by Felix Van Groeningen
Best Canadian or Quebec Feature
LES 4 SOLDATS by Robert Morin
Best Animation Feature
THE GARDEN OF WORDS by Makoto Shinkai
Guru Prize For Most Energetic Film
Gold HK/FORBIDDEN SUPER HERO by Yuishi Fukuda
Most Innovative Film
OXV: THE MANUAL by Darren Paul Fisher
Best Short Film
Gold LE CHEVREUIL by Rémi St-Michel
Silver L'ÉTRANGER by Olaf Svenson
Bronze JACK ATTACK by Antonio Padovan and Bryan Norton
Best Documentary
REWIND THIS! by Josh Johnson