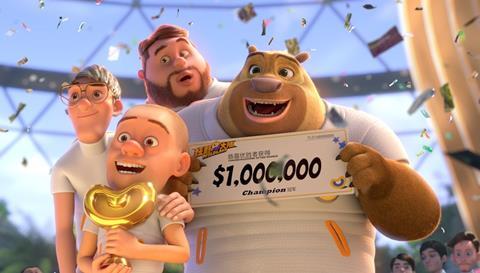 China's Fantawild Animation has sold the latest installment in its Boonie Bears franchise, Boonie Bears: The Wild Life, to multiple territories, including the UK and France (Factoris Films).
The film has also gone to Turkey (Bir), Australia and New Zealand (China Lion), Taiwan (Vitality), Canada (Guzzo), CIS (Mauris), Brazil (Lanca) and Colombia and Peru (Cinecolor). Fantawild has also sold the film to Sony for Latin America pay-TV and VOD.
Fantawild has been releasing a Boonie Bears movie every Chinese New Year since 2014, all of which have been substantial hits and amassed more than $415m in global sales revenue. The Shenzhen-based studio also produces about 100 episodes of spin-offs and rakes in $440m in merchandising annually.
Boonie Bears: The Wild Life was scheduled for release over Chinese New Year 2020, but was postponed when China's cinemas were closed due to the Covid-19 pandemic, and is still awaiting a new release date. However, the eighth installment in the franchise is already in production and scheduled for release in 2021.
Although it has yet to be released, Boonie Bears: The Wild Life is on course to overtake the franchise's previous best seller, sixth installment Blast Into The Past, in sales revenue.
"Even though each film is a standalone piece, we have been able to develop long-term relationships with many important distributors around the world, who keep coming back to us to find our quality always increases and our storytelling remains sharp," said Fantawild International deputy general manager Allen Lo.
Returning buyers include Canada's Guzzo Cinemas, which has acquired The Wild Life, and previously released two installments in the franchise. "The response and recognition of the brand from our clientele base got bigger film by film. We anticipate The Wild Life will continue that trend as we will be releasing this one wider than the previous two," said Guzzo Cinemas' Vince Guzzo.