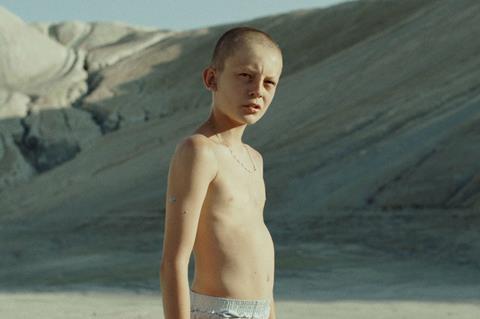 UPDATED: Top brass at the 2018 Palm Springs International Shortfest announced the audience awards on Sunday evening (June 24) after revealing juried and non-competition winners earlier in the day.
The Best Live Action - Crystal Award went to Red Light (Bulgaria-Croatia) by Toma Waszarow, while the Best Animation - Crystal Award winner was Coin Operated (USA) by Nicholas Arioli.
Kayayo (Norway) by Mari Bakke Riise won the Best Documentary - Crystal Award, and the ShortFest On-line Audience Award - Crystal Award winner was Lost Face (Australia-Canada) by Sean Meehan.
Turning to the juried prizes unveiled in the afternoon, Jérémy Comte's Canadian selection Fauve was named Best of the Festival and becomes eligible for Oscar consideration. The film takes place in a surface mine as two boys sink into a seemingly innocent power game.
Lorenz Wunderle's Coyote from Switzerland about a coyote that loses its family after a wolf attack won Best International Short, while Best North American Short went to Celine Held and Logan George for Caroline, about a six-year-old faced with a big responsibility on a hot Texas day.
In the non-student competition awards, where all first-place winners are eligible for Oscar consideration, Emily Ann Hoffman's stop-motion Nevada (USA) was named Best Animated Short, Jerry Carlsson's Shadow Animals (Sweden) won Best Live Action Short Over 15 Minutes, Lendita Zeqiraj's Fence (Kosovo-France) won Best Live Action Short Under 15 Minutes, and Dulce (Colombia-USA) by Guille Isa and Angello Faccini was named Best Documentary short.
In the student awards, the animation prize went to Anaïs Voirol for Perfect Town (Switzerland), while the award for best live action over 15 minutes went to Carlos Tapia González (Switzerland-Mexico) for Satán, and Laurel Parmet took the live action award for best film under 15 minutes for Kira Burning (USA). The documentary award went to Sebastián Pinzón Silva for Palenque (Colombia-USA).
Audience awards will be announced on Sunday evening.
A total of 333 short films screened throughout the festival, which runs from June 19-25 and handed out more than $87,500 in prizes, including $27,000 in cash awards.
"The award winners truly capture the amazing pool of talent and the incredible range of films found at the festival," festival director Lili Rodriguez said. "We're honored to witness and share such a skilled level of filmmaking and can't wait to do it again next year."
Click here for full results.