Micro-budget Death Of A Poetess set for world premiere.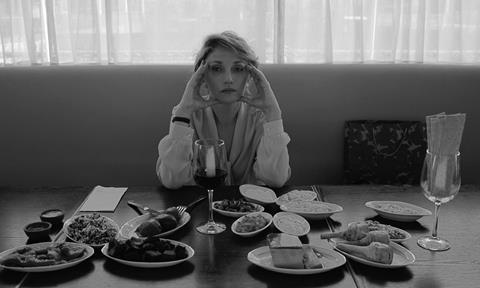 Female film collective Kinoclan makes its feature debut at Jerusalem Film Festival (JFF) with Dana Goldberg and Efrat Mishori's Death Of A Poetess, which premieres tonight (July 14) in the Israeli feature competition section.
The black-and-white, micro-budget film – made for less than $28,500 (ILS 100,000) – is the first feature-length production made under the Kinoclan banner since its creation 18 months ago.
In the film, Evgenia Dodina and Samira Saraya, best known internationally for her role in Shira Geffen's Self Made, play 50-year-old Israeli researcher Lenny Sade, who is passing through the last day of her life, and Yasmin, a nurse hailing from the Arab community in Jaffa. Their paths become intertwined by a strange turn of events.
Directorial duo Goldberg and Mishori set up Kinoclan in 2016 with the aim of creating works of art across all media representing the female experience through women's eyes.
"It was founded out of a team of filmmakers who've been working together for more than a decade," says Goldberg who has made numerous shorts as well as the feature Alice, which premiered at JFF in 2012, where it won an honourable mention. "We're interested in feminist filmmaking and the representation of women but our members are not only women, there are male members, too," she adds.
Goldberg reveals she decided to shoot Death Of A Poetess on a micro-budget, using a small inheritance she received from her late father to kickstart the project, after failing to get other projects financed through more traditional channels.
On the back of an original idea from Mishori, the pair got actresses Dodina and Saraya on board and shot the film over four days, improvising the scenes as they went along. "We had a treatment but no script. It was made in a very experimental way," explains Goldberg.
After submitting a rough cut to the Israeli film funds, the project secured post-production support from the Israel Film Fund and the Gesher Fund.
With plenty of buzz around Death Of A Poetess as it premieres at JFF, Goldberg hopes it acts as a calling card for two other features she has in development, including Mother Of All Soldiers which won a development prize at the 2015 Haifa Film Festival.