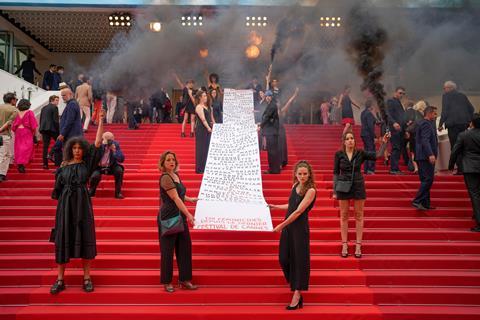 A group of protesters held aloft a large banner containing the names of French femicide victims, as the red carpet prepared for the premiere of Holy Spider in Cannes today (May 22).
The protestors were dressed in black, posed with their fists raised and let off black smoke bombs. It is understood that the names of the 129 victims of femicide in France since the last Cannes Film Festival were listed on the banner.
It is understood to be the work of a feminist collective, Les Colleuses.
The scene was captured by photographer Raymond Depardon, whose son Simon Depardon directed, with Marie Perennès, the documentary Riposte Féministe. The title premiered in Cannes today, and follows the public protests of Les Colleuses in their mission to denounce gender-based violence.
Feminist protest at Holy Spider premier #Cannes pic.twitter.com/VCEz0aI3BW

— Gregory Ellwood - CANNES - The Playlist 🎬 (@TheGregoryE) May 22, 2022
Holy Spider sales agent Wildbunch was not aware that the protest was going ahead. The protest was not linked to Holy Spider, confirmed a spokesperson for Riposte Féministe, a title also represented by Wildbunch.