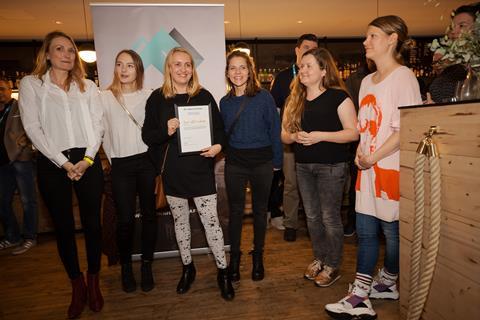 Tuffi Films short film anthology One-Off Incident won the Finnish Film Affair's work in progress award, which goes to the project presented that is most likely to attract international attention.
One-Off Incident is an anthology of short films about how power is used against women in their private lives as well as in society. The project will also include an awareness campaign.
The project is directed by 15 female writers and directors and curated by Tuffi Films' group of female producers; it was pitched by director Alli Haapasalo and Tuffi producer Elli Toivoniemi. The jury – comprised of Edinburgh's Mark Adams, Steven Bestwick from The Yellow Affair and Agneta Perman from Swedish broadcaster SVT – praised its "timeliness, well thought-out strategy, and its potential to engage the audience to continue the discussion on gender equality issues."
The other directors for One-Off Incident are Reetta Aalto, Maryan Abdulkarim, Sonya Lindfors, Inari Niemi, Raisa Omaheimo, Anna Paavilainen, Kirsikka Saari, Aino Suni, Saaran Särmä, Miia Tervo, and Jenni Toivoniemi.
The $3,500 (3,000 Euros) prize goes towards the film's international marketing efforts.
The festival and FFA also gave Finnish actress Laura Birn (The Ones Below, Purge, The Innocents) its Nordic Flair award.
Some of the other hot pitches included Taneli Mustonen's horror film The Twin, Hanna Bergholm's thriller Birds Of A Feather, Klaus Härö's English-language debut drama My Sailor, My Love and Zaida Bergroth's period drama Maria's Paradise; as well as documentaries including Virpi Suutari's Aalto about Finnish architect and designer Alvar Aalto.
The Finnish Film Affair is the industry sidebar of the Helsinki International Film Festival and is Finland's largest film industry event. Nearly 450 industry professionals attended the event, including sales executives, distributors and producers.
Finished films screening including Stupid Young Heart (another Tuffi production), Euthanizer, The Guardian Angel, One Last Deal, Heavy Trip, M, and Moomins and the Winter Wonderland.