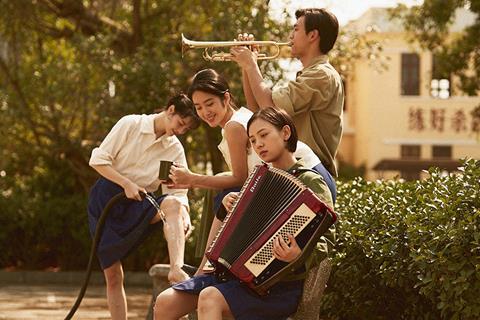 Chinese director Feng Xiaogang's Youth (Fang Hua) will screen as the opening film of the inaugural Pingyao International Film Festival (PYIFF), which runs October 28 to November 4.
Starring Huang Xuan, the film is an adaptation of Yan Geling's novel about a military cultural troupe during the 1970s. It was scheduled to open over the recent National Day holidays but had its release postponed with no explanation given.
Other titles in the PYIFF line-up include Cannes Palme d'Or winner The Square, Richard Linklater's Last Flag Flying and Takeshi Kitano's Outrage Coda, marking the Japanese director's first film to be screened officially in China.
The festival's Pingyao Night (November 4) will feature the world premiere of Ma Liwen's A Test Of Love Adventure.
At a Beijing press conference, PYIFF founder Jia Zhang-ke introduced the slogan of the inaugural edition as 'Pingyao Year Zero'.
"This is the first year of our film festival, but we are more willing to say its our year zero," Jia said. "PYIFF is still very green, not mature enough. It will be a trial and error process for us, but at least we have taken the first step."
There will be also two special screenings during the festival – omnibus film Where Has Time Gone, which marks the first film collaboration of the BRICs countries, and Li Chen's aerial action film Sky Hunter, starring PYIFF ambassador Fan Bingbing. Jia directed the Chinese portion of Where Has Time Gone, which was filmed entirely in Pingyao.
The festival's 'Crouching Tigers' section aims to showcase debut or second films of outstanding new directors across the world, while the 'Hidden Dragons' section highlights the directors of genre movies (see full line-up below).
The Best of Fest and Galas sections of the festival selects award-winning movies from major film festivals around the world. The PYIFF Retrospective will pay homage to Jean-Pierre Melville.
CROUCHING TIGERS
The Rider (US) – dir: Chloé Zhao
Bloody Milk (France) – dir: Hubert Charuel
Rey's Education (Argentina) – dir: Santiago Esteves
The Nothing Factory (Portugal) – dir: Pedro Pinho
Suleiman Mountain (Kyrgyzstan/Russia) – dir: Elisaveta Shishova
From Where We've Fallen (China) – dir: Wang Fei Fei
Life Guidance (Austria) – dir: Ruth Mader
HIDDEN DRAGONS
The Endless (US) – dir: Aaron Moorhead, Justin Benson
Rangoon (India) – dir: Vishal Bhardwaj
L'ora Legale (Italy) – dir: Ficarra, Picone
Ash (China) – dir: Xiaofeng Li
Love And Bullets (Italy) – dir: Antonio Manetti, Marco Manetti
Valley Of Shadows (Noway) – dir: Jonas Matzow Gulbrandsen