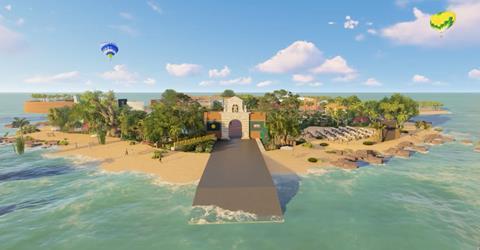 The Knowledge Series at India's Film Bazaar Online, which wrapped today, mapped out some of the realities for Indian filmmakers in a Covid-hit world. While some themes are familiar in film industries all over the world – rising production costs, shuttered cinemas and a shift to streaming – others were uniquely Indian.
On a 'Future of Film Distribution' panel, producer Guneet Monga explained how shooting restarted in India last October with Covid safety measures, including social distancing, zoning of film sets and regular testing.
"We don't really have completion bonds in India, but there's insurance. Many films booked a whole flight, went off to a secure foreign location to shoot the whole movie, then came back. We're also seeing the emergence of new companies that are providing Covid facilities," Monga said.
She also explained how both small-budget, indie films and bigger titles – such as Soorarai Pottru, a Tamil-language film she co-produced with Suriya's 2D Entertainment – have opted to premiere on streaming platforms, even after cinemas started to reopen with limited capacity last October. For indie films, which are often shut out of the theatrical space, this has been an opportunity to reach a wider audience: "Doors have opened, everyone is being empathetic and there's more unity in the distress."
However, the panellists also discussed how difficult it is for small films to break out and find distribution at online festivals, especially if the wide access of a digital screening could hurt a VOD deal down the line. "That's the challenge now," explained The Film Collaborative's Orly Ravid. "If a film is fully financed by an SVOD, then they control the strategy, but if you've self-financed and doing a festival launch, you have to make sure that online screening isn't the reason the film isn't picked up later by VOD."
A recurring theme was how streaming is opening up spaces for India's regional (i.e. non Hindi-language) content, as well as foreign-language films and series from overseas. On the distribution panel, Delhi-based distributor Kamal Jain of Superfine Films said he's recently acquired two Russian films for the first time. "We're seeing a surge in demand for foreign-language films, whereas the focus before was always on US movies. Audiences want to see something different," Jain said.
This sentiment was echoed by Karan Bedi, CEO of streaming platform MX Player, on the 'Meet The Streamers' panel later in the week. "We got a whole bunch of content from Turkey, France, Korea, Indonesia that has been subtitled and dubbed and has done really well for us," said Bedi. "People are looking for good stories and are very open to watching content dubbed in a language they're comfortable with."
As in other territories, the content landscape in India is becoming more diverse, but there's also more competition from streamers producing original content. In addition to Netflix and Amazon Prime, India's streaming sector includes players like Disney+Hotstar, Zee5, SonyLIV and Alt Balaji, who are all investing heavily in local-language originals.
This has kept India's more story-driven directors, writers and actors busy, although it has also taken their attention away from independent films. One of the biggest streaming hits last year was SonyLIV's Scam 1992: The Harshad Mehta Story, directed by Hansal Mehta who is known for tackling social and political issues in his films.
"We've had a spectacular year despite all the issues," said SonyLIV head of original content Saugata Mukherjee on the streamers panel. "People stayed home, watched Scam, consumed new content. [The pandemic] has hastened the process of converting viewers to VOD consumption."
Panellists also discussed how these trends might lead Bollywood to rethink its playbook, as streaming is better suited to personal, more intimate and edgy stories, rather than the big song-and-dance spectaculars that India is known for.
Zee5 programming head Aparna Acharekar said there's a trend for fast forwarding through the songs when mainstream films play on streaming platforms. "Song and dance is to be enjoyed in theatres and possibly on Spotify. When it comes to a good viewing experience at home, audiences want 90-120 minutes of tight storytelling and strong performances," Acharekar said. "This is why the celebrity actor phenomenon doesn't really work on OTT."
Other speakers at Film Bazaar Online included Netflix India's original films chief Srishti Behl Arya, Balaji Telefilms boss Ekta Kapoor, directors Vetrimaaran (Visaaranai) and Rohena Gera (Sir) and producers Sanjay Suri, Ashish Bhatnagar and Sreyashi Sen. Film Bazaar wraps today with the awards ceremony for the Works-in-Progress and Film Bazaar Recommends sections.