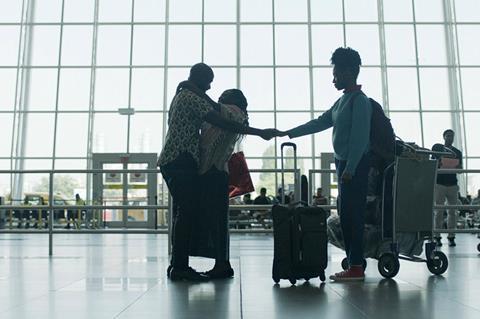 Film Constellation has boarded international rights at Sundance to Ekwa Msangi's debut feature and U.S. Dramatic Competition Category selection Farewell Amor and will launch sales in Berlin next month.
The story centres on a family that reunites after 17 years apart when Angolan immigrant Walter is joined in the US by his wife and the teenage daughter he does not know.
Sharing a one-bedroom Brooklyn apartment, they struggle to overcome the emotional distance between them. Walter tries to let go of a previous relationship while his wife Esther struggles with a new country, culture and emotionally remote husband, and the daughter starts to explore the city and express herself through dance.
Ntare Guma Mbaho Mwine, Zainab Jah, Jayme Lawson, Nana Mensah, Joie Lee and Marcus Scribner star.
Farewell Amor is a Park Pictures, Wavelength Productions, and MUBI presentation of an Outrageous Pictures and Department of Motion Pictures production in association with Jhumka Films, Lucky 13 Productions, and Macro Media.
Huriyyah Muhammad, Sam Bisbee, Josh Penn, Bobby Allen and Joe Plummer produced and executive producers are Lance Acord, Jackie Kelman Bisbee, Alicia Brown, Efe Cakarel, Pradnya Dugal, Tej Dugal, Theodora Dunlap, Cassian Elwes, Michael Gottwald, Poppy Hanks, Charles D. King, Joel Michaely, Wendy Neu, Michele Turnure-Salleo, and Jenifer Westphal.
Endeavor Content handles all North American rights and at time of writing said it was fielding offers.
Earlier this week in Park City, producer Muhammad was awarded the 2020 Sundance Institute / Amazon Studios Producers award.
"Ekwa is a major talent revelation," said Film Constellation CEO and partner Fabien Westerhoff. "Her debut delivers on a level of beauty, musicality and soul rarely seen on screen that will ravish audiences worldwide. We look forward to introducing the film to our buyers in Berlin."
Muhammad, Bisbee and Penn added, "We are incredibly excited to join forces with Film Constellation. Along the way, the film has attracted collaborators who have been touched by the intimacy of the story and who share the understanding that this is a universal tale for audiences around the world. The journey of Farewell Amor is just beginning."