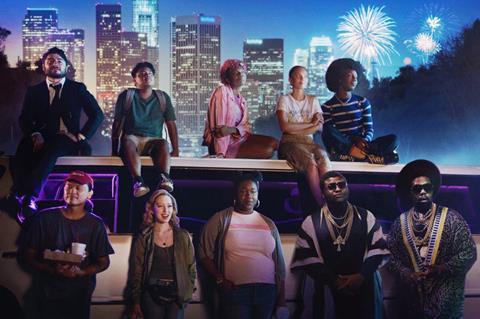 London-based production, finance and sales company Film Constellation has picked up world sales rights to musical feature Summertime.
Directed by Carlos López Estrada, whose credits include Blindspotting, the film received its world premiere at Sundance in January. FIlm Constellation will be introducing it to buyers at the virtual TIFF market next month and will host private digital screenings.
The slam poetry musical is set in Los Angeles during a heatwave and follows the lives of 25 young Angelinos as they intersect over the course of a single day. It was developed with 25 young poets, all of whom served as co-writers.
Producers are Kimberly Stuckwisch, Jeffrey Soros, Alisa Tager, Simon Horsman, Carlos López Estrada and Diane Luby Lane. Executive producers are Neil Garvey, Patrick Murray and Andrew Blau.
Estrada will next direct Disney's live-action remake of 1976 animation Robin Hood.
Film Constellation's slate includes TIFF Discovery selection Wildfire, from debut filmmaker Cathy Brady; Sundance horror title Relic, by Natalie Erika James; and David Bowie origin-story Stardust, from Salon Pictures.
Director Carlos López Estrada said: "Working alongside these brilliant poets has been one of the highlights of my life and I cannot wait for international audiences to see what I consider the most inspiring angle of the city of LA."
Fabien Westerhoff, CEO of Film Constellation added: "With intoxicating performances and a melodic delivery that never lets go of the viewer, this is truly bold filmmaking, as entertaining as it is inspired, and a second feature that confirms Carlos López Estrada as a bright voice to be reckoned with."