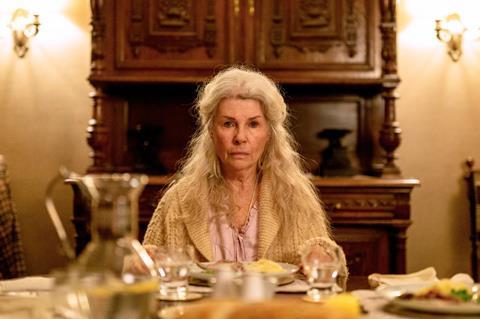 UK sales and production company Film Constellation has registered further deals on Relic, Natalie Erika James' horror title which debuted in Sundance Midnight in January this year.
It has sold to the UK (Signature Entertainment); France (Star Invest Films); German-speaking territories (Leonine); Scandinavia (Europafilms); CIS (Rocket Releasing); Taiwan (Sky Digi Entertainment); Vietnam (Mockingbird Pictures); and Argentina & Chile (under negotiation).
The film was previously sold to IFC Midnight for the US, where it will be released in cinemas and on VoD on July 10; and to Umbrella Entertainment for Australia and New Zealand, with a release there later this year.
Film Constellation created a dedicated buyers website for the film in response to Covid-19 limitations, enabling them to screen Relic without the usual support and infrastructure of a market or festival.
Relic is produced by Anna McLeish and Sarah Shaw of Carver Films, alongside Jake Gyllenhaal and Riva Marker of Nine Stories Productions. It is executive produced by AGBO Films' Anthony Russo, Joe Russo, Mike Larocca and Todd Makurath with Wang Zhongjun, Wang Zhonglei and Hu Junyi.
The all-female genre title stars Emily Mortimer, Robyn Nevin and Bella Heathcote. It follows an elderly, widowed matriarch who goes missing and the return of her daughter and granddaughter to the remote family home to find her. Her increasingly volatile behaviour when they do leads them to suspect an insidious presence in the house has taken control of her.
"We are thrilled to be partnering with such a wide range of excellent distributors who have shown immediate enthusiasm for the film. Natalie's talent is evident, and we are proud to know audiences worldwide will be treated to such a vibrant and powerful story," said Fabien Westerhoff, CEO of Film Constellation.