Film Hub London, the exhibitor network managed by Film London, unveils plans for its second year.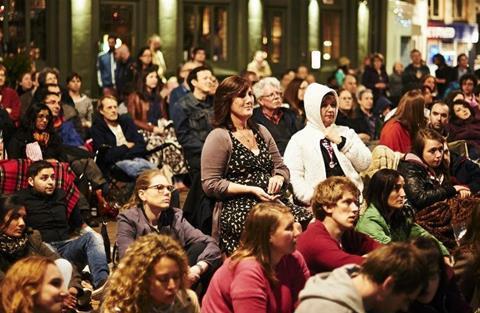 Film Hub London - Film London's network of 220 cinemas, film clubs and exhibitors - has announced its strategy for the forthcoming year, investing $170,000 (£110,000) in initiatives aimed at boosting audiences in the capital.
The newly launched Exhibitor Activation programme will look to help existing screening programs that are already performing well by providing funding to increase their reach across London.
The hub will also continue its Community Screen Scheme but will focus on north east London, an area that has "lower-than-average cinema attendance". This year will see "dedicated funding" made available to support new projects in Waltham Forest, Redbridge, Barking and Dagenham, Newham and Havering.
Established in 2013 as part of the BFI Film Audience Network, Film Hub London coordinates organisations that screen films from each of London's 33 boroughs.
In particular, the initiative aims to enhance links between distributors and exhibitors to "engage new audiences and expand their reach across the city".
New pilot
A new pilot project will "support the release of four specially-selected British and specialist films" helping them to "screen in more venues and reach more audiences".
The hub's Boost Awards, which "help exhibitors with screening fees, talent appearances and print transport", will also return for another year.
Adrian Wootton, CEO of Film London, said the initiative's aims would be "capitalising on central London's rich stream of programming, helping exhibitors in the outer reaches of the city grow, and all the time unifying our network of specialists, encouraging them to work towards the common goal of presenting an incredible film offer for the whole of London."
Film Hub London's past projects have included forming a partnership with the ICA, Deptford Cinema and JW3 to celebrate the work of filmmaker Krzysztof Kieślowski, and also the Cinemania partnership with Picturehouse Cinemas, which offers discounted cinema tickets and special events to under-24s at venues such as the Barbican.